Ingraham On Sen. McCain Calling Out Heckler: 'What's Wrong With Calling Out Behavior For What It Is?'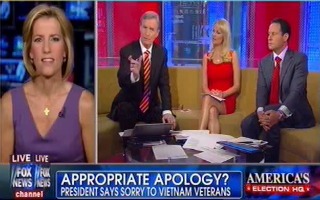 Conservative radio host Laura Ingraham appeared on Fox & Friends on Monday to discuss controversial remarks made by President Barack Obama, Sen. John McCain (R-AZ) and Rep. Barney Frank (D-MA) over the weekend. She agreed with President Obama's sentiments and McCain's shutting down a protester. She also said that Frank's joke "fell flat" and was an attempt to generate controversy to get him back on Fox News.

RELATED: Sen. McCain Rips Heckler Who Interrupts His Memorial Day Speech: 'Jerk!'
The Fox hosts played a clip of President Obama making a Memorial Day address to Vietnam veterans over the weekend. The President lamented the fact that they were often "denigrated" when they "should have been celebrated" when they returned from the war.
Ingraham agreed with the President, but she also said it was a shame that "so many of us look at what he says tough, kind of, a political lens." She said that the sentiment Obama expressed was right, but his supporters – like Bill Ayers – have said that some Vietnam veterans were complicit in war crimes.
Ingraham was asked to weigh in on a Memorial Day speech that Sen. McCain made where he was interrupted by a protester. McCain described the protester as he was being escorted out as a "jerk."
"What do you think the odds are, Juliet, that that heckler is a Romney supporter," asked Ingraham. She said that it was great that McCain responded to that heckler – she noted that Romney was probably too "genteel" to respond to that heckler.
Fill-in Host Juliet Huddy said that McCain took "the Chris Christie role." Ingraham agreed and asked "what's wrong with calling out behavior for what it is?"
Finally, Ingraham was asked for her opinion on Rep. Frank's commencement speech joke in which he called a graduation hood something that the students could wear without being afraid they would be shot – in reference to slain Florida teen Trayvon Martin.
"This is begging Bill O'Reilly to have Barney Frank back," said Ingraham. She said that Frank is "known for these kinds of comments."
"It doesn't surprise me," said Ingraham. "It didn't go over well. That's the good news here."
Watch the segment below via Fox News Channel:
Have a tip we should know? tips@mediaite.com