Ingraham On Stacey Dash: 'If You're Black' And Disagree With Obama, 'You're A Hater And A Sellout'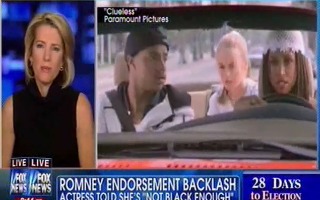 On Sunday, actress Stacey Dash endorsed Mitt Romney on her Twitter account and was subject to a significant backlash from some of her fans who support President Barack Obama. When conservative radio host Laura Ingraham was asked to offer her opinion on the matter, she said that it was incumbent on others to "reinvigorate this idea of freedom of thought and expression." She thought it was a problem that African Americans and minorities were often called "Uncle Tom" or "sellout" for expressing support for conservative ideas or politicians.

RELATED: O'Reilly, Ingraham Clash Over Whether Romney Should Be 'Folksy' Or Go For Obama's Throat At Debate
Brian Kilmeade asked for Ingraham's thoughts on the backlash Dash faced after endorsing Romney. "I clerked for Justice [Clarence] Thomas. I'm used to seeing this kind of stuff," said Ingraham.
"It doesn't surprise me one bit – everybody from [Thomas] Sowell to Col. Allen West have talked about the liberal plantation," Ingraham continued. "That, if you're black or a minority, and you happen to champion conservative causes – the free market, someone like Mitt Romney — you're a sellout, you're an Uncle Tom. To me, that's really, really sad."
Ingraham said that conservatives still face a level of prejudice in communities and professions that are dominated by liberals, like the entertainment community. She spoke directly to Dash near the end of the interview and expressed her support for Dash's ability to think and believe what she would like.
"Unfortunately, Laura, it often seems like just one side is entitled to their opinion, doesn't it," asked Steve Doocy.
"Again, if you happen to be black and disagree with what this historic president has done to black America, or Latino America, or small businesses or women, than you are a hater and a sellout," said Ingraham. "I think it's incumbent on all of us to reinvigorate this idea of freedom of thought and expression and beat back the true forces of intolerance, which is those who are intolerant of intellectual diversity."
Watch the clip below via Fox News Channel:
> >Follow Noah Rothman (@Noah_C_Rothman) on Twitter
Have a tip we should know? tips@mediaite.com