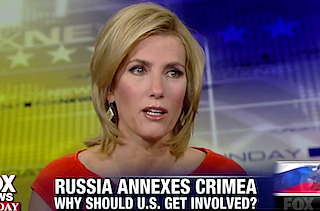 Conservative radio host Laura Ingraham asked a Fox News Sunday panel on Ukraine why the U.S. only cares about border sovereignty when it concerns other nations, and further warned that "military adventurism" in Iraq and Afghanistan had left the middle class without an appetite for further intervention.

"We can talk about, 'We should do this and and we should do that' and I understand that, I really do," Ingraham said. "But we have a country right now where people look around and say, 'Wait a second, why do we only seem to care about borders and sovereignty when they're other countries' borders and sovereignty? Why is it that we're obsessed with that but in our country, we have a middle class completely flatlining, we have economic opportunity dwindling?' "
"It's a hard sell to the people spending money that, we don't know where it's coming from, in an economy that needs desperate help here."
"So these are the perils of military adventurism in previous decades, and we're paying the price of that a little bit today," Ingraham said. "I was a big supporter of the war in Iraq. I understand there are a lot of complexities there. But the American people are saying, where is the bang for the buck?"
"I don't think anybody's really talking about military force," Bob Woodward replied.
"Not right now," Ingraham warned.
Watch the clip below, via Fox News:
[h/t Crooks & Liars]
[Image via screengrab]
——
>> Follow Evan McMurry (@evanmcmurry) on Twitter
Have a tip we should know? tips@mediaite.com