Ingraham: Russian Invasion of Ukraine Result of Obama Leading America as 'Nation in Decline'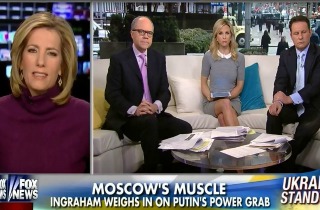 Conservative radio host Laura Ingraham joined the hosts of Fox & Friends on Tuesday morning where she criticized the White House's approach to the ongoing crisis in Southern Ukraine, where Russian forces have occupied the Crimean Peninsula and appear to be paving the way for the annexation of that territory. Ingraham said that this action was "predicted" on that very program at the start of President Barack Obama's first term based on his worldview.

"This is in line with how we've conducted ourselves in foreign policy in other parts of the world," Ingraham said of Russia's actions in Eastern Europe.
"When you conduct yourself as a nation in decline," she continued, "other nations take a cue from this."
She added that Russia may have taken the actions it took regardless of the United States' behavior in the region, but the White House's "one step forward, two steps back approach to foreign policy" has not been productive.
RELATED: Dick Cheney on Ukraine: Mistake to Take Military Options Off the Table
Ingraham later said that the president was never concerned with foreign policy as much as he was with reforming America domestically. She added that Obama was "schooled" in a "globalist approach" to foreign affairs.
"That's his mantra, and I think we've seen it play out as predicted," Ingraham declared. "Everything's happening as, sadly, I think we probably predicted on the show back in 2008-2009."
"There are real world consequences for signaling to Russia, and China, and every other country that we either can be bought, or that we're just simply not going to respond in a way that President [Ronald] Reagan would have responded in the same type of confrontation," Ingraham concluded.
Watch the clip below via Fox News Channel:
[Photo via screen grab ]
— —
> >Follow Noah Rothman (@NoahCRothman) on Twitter
Have a tip we should know? tips@mediaite.com