Ingraham: Shutdown Won't 'Be So Bad For Republicans' if They Hold Out for Concessions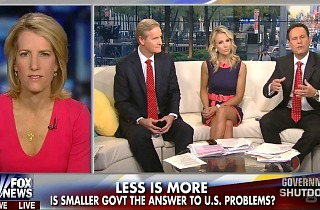 Conservative radio host Laura Ingraham told the hosts of Fox & Friends on Tuesday that she believes the Republicans in Congress can salvage their reputation with voters if they hold out for concessions from Democrats and President Barack Obama to end the government shutdown.

Brian Kilmeade asked about a recent poll which showed 70 and 61 percent of adults disapprove of how Republicans and Democrats in Congress, respectively, have handled budget negotiations. Kilmeade added that Obama's approval rating has actually increased by 4 points this week.
"Who feels the pressure most if Wall Street starts cratering, if China starts panicking?" Kilmeade asked.
"I think the Republicans right now are going to feel it more," Ingraham replied. "There is no doubt about it."
RELATED: Poll: Majorities Disapprove of Obama, GOP, Democrats Handling of Budget Negotiations
She said that if House Speaker John Boehner (R-OH) were to capitulate today and pass a clean budget to fund the government, the Republican position would not improve at all.
"Boehner right now looks like the guy who wants to sit down and work this out," she said. Ingraham added that, if the GOP can force Democrats to concede to even one Republican demand, their position may be improved greatly.
"I think the longer this thing goes on with the shutdown, it actually might work a little bit more to the Republican favor, given what we're finding out about illegal immigrants doing rallies on the Mall, yet veterans got the run around for a long time," Ingraham continued. "I think this doesn't wear well with people."
"I'm not sure it's going to ultimately be so bad for Republicans if they're able to hold firm now," she predicted.
Steve Doocy cited a recent Fox News poll which showed that nearly two thirds of all voters want spending cuts associated with an increase in the debt ceiling.
"I think that's the kind of stuff that Boehner is holding on to," Ingraham concluded.
Watch the clip below via Fox News Channel:
[Photo via scree grab ]
— —
> >Follow Noah Rothman (@NoahCRothman) on Twitter
Have a tip we should know? tips@mediaite.com