Ingraham Spars With O'Reilly Guest Over How The Media Treats Black Conservatives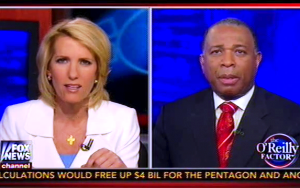 The media treatment of black conservatives has been a hot topic in conservative circles for the past few months, and the latest high-profile figure to weigh in is Supreme Court justice Clarence Thomas, who said in an appearance on C-SPAN that the media tears apart any black individual who does not fit a certain mold of "what to except from a black person" in American politics. Laura Ingraham, filling in for Bill O'Reilly tonight, clashed with Reverend Jacques DeGraff over whether Thomas was right in his assessment.
RELATED: Justice Clarence Thomas: Obama Was Elected Because He's 'Approved' By 'Elites And The Media'
DeGraff argued that regardless of political affiliation, African-Americans always face a lot of scrutiny in the public eye. He brought up how much people raised questions about President Obama's background, family life, and college transcripts. Ingraham shot back that the latter was never made public, but DeGraff argued that this was never a point of contention for any politician until Obama came along. When Ingraham asked him directly if he thinks this was due to Obama's race, DeGraff did not directly answer, but pointed out this never happened to white candidates.
On the subject of Thomas' comments, DeGraff argued that black conservatives like Allen West and Dr. Ben Carson are only treated differently by the media because their are received differently by their communities. Ingraham suggested West would have looked better in the eyes of the media if he had liberal positions on things like gay marriage.
DeGraff pushed back, saying that certain people get better media coverage because they have better relationships with individuals in the media. He added that they would also get more play "if their views were more closer to mainstream America."
Watch the video below, courtesy of Fox News:
—–
Follow Josh Feldman on Twitter: @feldmaniac
Have a tip we should know? tips@mediaite.com
Josh Feldman - Senior Editor