Ingraham To Megyn Kelly On Returning Maher's Donation: Slippery Slope, GOPers Have 'Maybe Odd Views' Too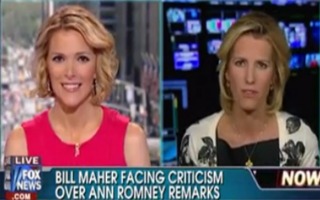 Megyn Kelly, host of Fox News Channel's America Live, had conservative radio host Laura Ingraham on her program on Tuesday. When Kelly asked Ingraham if she believed that it was appropriate for the a pro-Obama Super PAC to surrender a large donation from comedian Bill Maher following his controversial remarks about Mitt Romney's wife Ann Romney, she said it's a bad idea for Republican's to audit the opinions of every pro-Obama donor because "I bet there are people who donate to Republican groups who have maybe odd views or views that aren't of the mainstream of conservative thinkers or voters in the United States."
RELATED: Laura Ingraham Calls Obama's Debt Solutions 'Immature And Adolescent'
On his Friday night HBO program Real Time, Maher said that Democratic strategist Hilary Rosen's comments were at least partially accurate because Ann Romney "has never gotten her a** out of the house to work."
Obama supporters are taking heat for accepting a $1 million donation to a pro-Obama Super PAC from Maher. Kelly cited a tweet by Republican National Committee Communications Director Sean Spicer to Priorities USA PAC director and former Deputy White House Press Secretary Bill Burton saying "don't you finally think u have to give the million back?"
Kelly asked Ingraham for her opinion on the matter and the radio host surprised some by saying that, despite Maher's comments being controversial and offensive, Republicans donors to pro-GOP PACs could be subject to the same scrutiny and that could reduce total GOP donations.
"I'm going to say this; I think that Republican ought to be very careful about going down this road of asking money be returned, and so forth," said Ingraham. "If we're going to get into the business of doing a personal opinion check on every big donor to a Mitt Romney Super PAC or a Mitt Romney-friendly Super PAC – I don't know where that's going to take us."
"I bet there are people who donate to Republican groups who have maybe odd views or views that aren't of the mainstream of conservative thinkers or voters in the United States," Ingraham continued.
Ingraham went on to say that, rather than attempt to silence Maher's speech or his ability to donate to his preferred political cause, that his donations and speech should be highlighted to showcase the views of one mainstream progressive with a broad and loyal likeminded audience.
"I'm glad in a way that he said what he said," Ingraham continued. "I think he's giving voice to what a lot of people on the left think about traditional families and moms that stay at home – that they're probably not all that smart, they're not all that engaged and they're not all that relevant."
"It is a bit of a gift to Republicans to hear those words," Ingraham concluded. "People who might not be tuned into this campaign yet are starting to hear what Obama supporters really think about family and the role of family in the United States. I think that's actually kind of a good thing. I'm not really worried about the million dollars."
Watch Ingraham's comments below via Fox News Channel:
Have a tip we should know? tips@mediaite.com