Fox's Eric Bolling Gifts Tea Party With Giant Tea Bag For Their Role In Debt Deal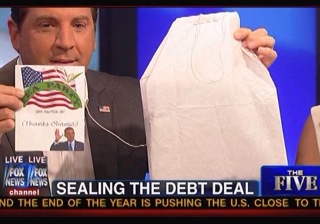 While most anyone on the either extreme of the political spectrum has expressed dismay at the final debt deal that has come out of the current crisis, the fact that the deal includes no tax hikes is great news to conservatives who were otherwise concerned about the deal. Arguing that, without the Tea Party victories of 2010, Congress would not have had the discussion it did, Eric Bolling took the time on The Five today to gift the Tea Party with a giant symbol of his appreciation: a tea bag.
While some of the conservatives on the panel– Andrea Tantaros most notably– were entirely skeptical of the super-committee proposed in the bill passed in the House today, the lack of tax hikes was given near-universal praise, and Bolling dedicated his giant tea bag to the people who made the difference. "In honor of the Tea Party," he declared, "that you for a big, big old bag of tea." After marveling at that for a bit (before a literal "Satan sandwich" became the star of the show– it was for Bob Beckel, of course), the panel got to the topic at hand. Beckel was very much dismayed by the "cruel, cruel outcome." "The losers here are poor kids, and the winners are millionaires and billionaires. Congratulations, Tea Party," he scoffed, adding an Italian epithet for effect.
He was, unsurprisingly, alone in this view. "This is like being on a diet and taking the olive off of the meat lover's pizza," proposed Greg Gutfeld, "and Bob is complaining about the olive." He dubiously praised the Democrats for having "convinced people that increasing is actually spending cuts." Then the conversation turned to the "Satan sandwich," which led to another debate on the skepticism on the super committee. "Congress is already an elected committee to do this job," Tantaros noted.
The full debate (and respective props) via Fox News below:

Have a tip we should know? tips@mediaite.com