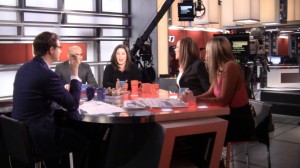 This past Sunday, prior to my interview with Up With Chris Hayes host Chris Hayes, I got to observe the last hour-and-a-half of MSNBC's new, rapidly rising weekend political roundtable. In the last installment of Inside Up With Chris Hayes, we take you behind the scenes and show you what happens during the show's much-talked-about, but never seen, commercial breaks with Hayes and panelists Reihan Salam, Rebecca Traister, Phaedra Ellis-Lamkins, and Elise Jordan.
As I've discovered from watching the #Uppers hashtag, there are two things that Up fans are inordinately fascinated with: the discussions that go on during the commercial breaks, which are frequently referenced on the air, and the plate of muffins and pastries that many guests seem too shy to sample. I've got generous helpings of both for you.
During my time on the set, I tried to swoop in like a media Marlin Perkins and capture the panel in its natural habitat, undisturbed. The banter during the breaks is indicative of the energy that makes the show so appealing. The talk doesn't turn peripheral, there is no actual "break." The conversation just…continues. The dialogue can be difficult to hear, so I boosted the audio as best I could, but these clips are also fascinating if you're into backstage details, like I am.
As it happens, I'm going to show you the last break first, because it requires a little bit of setup. Sunday's show featured a terrific interview with Dr. Susan Wood (which you should watch here), and a discussion about the Obama administration's awful decision to make Plan B a prescription-only drug for those under age 17, and the President's awful response to it (he parroted Republican talking points about selling Plan B "alongside bubble gum").
During an earlier break, Hayes had said that he thought the politics of the decision were right. During the final break, which was longer than the others, I asked him if he meant the decision itself was the right politics, or the President's framing.
The clip also features panelist Reihan Salam, who is known to Up viewers as the one guest who can be relied on to chow down during the show, literally inhaling a pastry in the background, but surviving the ordeal.
NEXT: The Politics Of Climate Science
Have a tip we should know? tips@mediaite.com