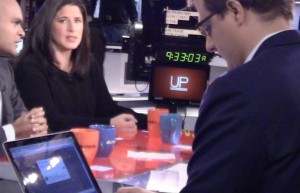 One key to the early success of MSNBC's weekend political breakfast show Up With Chris Hayes is the show's loyal Twitter following, which has made #Uppers (the program's Twitter hashtag) a top trending topic Saturday and Sunday mornings. In the last part of our interview, host Chris Hayes (who is constantly checking the Twitter feed during the show) answered questions from those Twitter #Uppers, revealing where the show's name came from, his connection to Supreme Court Justice Elena Kagan, and more.
RELATED: Inside Up With Chris Hayes: The Best (And Worst) Part Of Waking Up Weekends
There are actually three ways to engage with Up on Twitter: using the #Uppers hashtag, tweeting directly to the host at @ChrisLHayes, or tweeting the show at @UpWithChris. You can also tweet Up Executive Producer Jonathan Larsen (@JTLarsen), as well as other members of the Up staff who engage the #Uppers during the show.
Elsewhere in our interview, Hayes talked about the importance of engaging with the audience via Twitter, calling it an "amazing" tool for feedback. There are times, he says, when the show has been able to issue corrections in near real-time based on tips from the Twitterverse, and the Twitter reasponse was a frequent topic during the commercial breaks (some of which we will bring you in our final post). Twitter is talking, and Up is listening.
During Sunday's edition of Up, I tweeted the #Uppers to send in questions for our interview's "lightning round," and got a lot of responses. Unfortunately, some of the questions didn't really lend themselves to a "lightning round" (how do we get the money out of politics?), and since Hayes had already devoted a good part of his Sunday to our interview, we didn't get to all of them, but we gave it a good shot. One of those questions, about President Obama's response to "appeasement" accusations, was included in another post.
RELATED: Chris Hayes Not A Fan Of President Obama's 'Ask Bin Laden' Appeasement Response
The questions ranged from personal details (not to spoil the surprise, but Hayes gets his glasses from WarbyParker.com), to quirks about the show (where do they get the pastries?), to broader political questions (why don't Democrats force Republicans to actually filibuster?). Here are the answers to those burning questions, and more:(look for the final installment of Inside Up, which takes you behind the commercial breaks)
Have a tip we should know? tips@mediaite.com