Intel Director James Clapper Stuns Senators By Calling China, Russia 'Greatest Threats'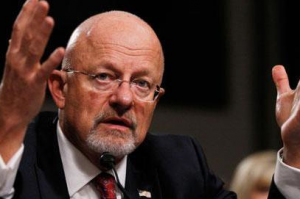 The country's top intelligence officer, James Clapper, who notably knew nothing about a series of terror arrests in Britain the day of an interview with ABC's Diane Sawyer, has done it again. During an appearance before the Senate Armed Services Committee, which was holding a hearing on worldwide threats, Clapper was asked about the gravest threats against the United States today. North Korea? Iran? No, he said China and Russia.

"Certainly, the Russians still have a very formidable nuclear arsenal, which does pose potentially a mortal threat to us," Clapper said. "I don't think they have the intent to do that." Clapper added that China also has an extensive military capacity that could, conceivably, pose "a threat to us as a mortal threat."
ABC News reports committee chairman Sen. Carl Levin told Clapper he was surprised by the answers and suggested that Iran and North Korea might be more threatening. Clapper declined the chance to change his answer and dug in, describing Iran and North Korea as countries "of concern," but insisting they did not pose a threat to the continental United States.
Sen. Lindsey Graham said the president should replace Clapper:
"The situation in Libya remains tenuous and the Director's comments today on Gaddafi's 'staying power' are not helpful to our national security interests," Graham said in a statement. "His comments will make the situation more difficult for those opposing Gaddafi. It also undercuts our national efforts to bring about the desired result of Libya moving from dictator to democracy."

Graham said "this isn't the first questionable comment" from Clapper. In addition to his remarks regarding Qaddafi, senators in the Senate Armed Services Committee Thursday were surprised by Clapper's response when asked which nations pose the greatest "mortal threat" to the United States.
Watch it here, from Fox News:
Have a tip we should know? [email protected]