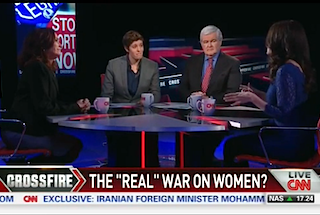 Brand new CNN contributor Sally Kohn made her presence known Wednesday afternoon, when she took over the liberal host chair on Crossfire, moderating a debate over women's reproductive rights between NARAL's Ilyse Hogue on one side and Live Action's Lila Rose on the other. Things got particularly heated when Kohn brought of statements Rose had made about banning abortions for rape victims.
Speaking to Glenn Beck on Fox News in 2011, Rose said of women who are raped, "Abortion adds more violence to that violent act."
"Are you really telling women that they should be forced by the government to carry their rapists' babies?" Kohn asked her.
Before clarifying that rape is a "horrible injustice" against women and that the rapist should be "held to the fullest extent of the law," Rose reiterated her original point. "Abortion doesn't un-rape a woman," she said. "An abortion just adds more violence on top of that first violence that she endured."
Soon, Hogue jumped in to counter Rose's assertions. "Isn't it great that we live in a country where Lila Rose could decide that she would decide to carry her rapist's pregnancy to term but her version of morality doesn't dictate what I can choose to do," she said. "And that's what religious liberty is about. It's about you getting to choose what would be right for you in that circumstance, but I don't get to tell you what to do and you don't get to tell me what to do."
When Rose pushed back, saying she agreed with Hogue up until the point that "another person's rights" are involved, Hogue shot back, "That is what you believe. That is not what the majority of Americans believe."
Watch video below, via CNN:
[photo via screengrab]
— —
>> Follow Matt Wilstein (@TheMattWilstein) on Twitter
Have a tip we should know? tips@mediaite.com