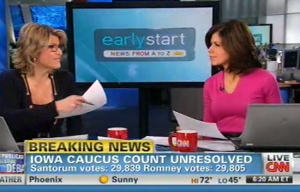 The Des Moines Register released a bit of a bombshell Thursday morning, with a report that, when the votes are all certified at 9:15 a.m. Thursday morning, Rick Santorum — not Mitt Romney — will be declared the Iowa Caucus winner, by 34 votes.
"It's a tie for the ages," Jennifer Jacobs of the Register writes. She uses the term "tie" because eight polling locations will be given an "incomplete" for not turning in their Form E, which makes their count official (reading her article paints a portrait of total chaos and rule-breaking throughout the caucuses). For all intents and purposes, however, Santorum will be declared the victor.
The new final totals:
Rick Santorum: 29,839 Change: -168
Mitt Romney: 29,805 Change: -210
According to the Register:
GOP officials discovered inaccuracies in 131 precincts, although not all the changes affected the two leaders. Changes in one precinct alone shifted the vote by 50 — a margin greater than the certified tally.
CNN's Early Start dug in once the news broke, dedicating most of the show to covering the breaking news, and bringing on a cast of political analysts and reporters to dissect it. Paul Steinhauser out it in the best perspective, positing that:
"If I were Rick Santorum's campaign, I would be yelling and screaming about this. I would be talking about this non-stop today, I would be talking about it tonight at our debate."
Early Start co-host Zoraida Sambolin asked how crazy it is to declare a new winner.
"It's very crazy," Steinhauser replied. "If I were the Iowa GOP, I'd [have] a little egg on [my] face." He added that, "I guess this is a little embarrassing for them."
Candy Crowley joined the show in a later segment and said that, while this does destroy Romney's claim to have set historical precedent by possibly winning the first three primaries, this may not do much to change the minds of voters. "I'm not sure what this would have changed, or does change," Crowley said. "I think in the end, what we have is an asterisk."
In a fun twist, the Register story also revealed that Donald Trump received five votes, Condoleezza Rice received two, and Ralph Nader received one.
Watch Early Start break the news of Santorum's victory below, courtesy of CNN:
Have a tip we should know? tips@mediaite.com