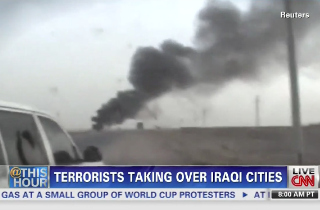 Sunni militants of the Islamic State of Iraq and the Levant (ISIL) have seized American Humvees and equipment after overrunning the country's second-largest city of Mosul.
Security forces reportedly abandoned posts as the Islamist's rebels march onward towards the capital city of Baghdad. Reuters has more:
The stunning advance of ISIL, which aims to build a Caliphate ruled on mediaeval Sunni Islamic principles across Syria and Iraq, is the biggest threat to Iraq since U.S. troops withdrew in 2011. Hundreds of thousands of people have fled their homes in fear as the militants seized the main cities of the Tigris valley north of Baghdad in a matter of days. The security forces of Iraq's autonomous Kurdish north, known as the peshmerga, or those who confront death, took over bases in Kirkuk vacated by the army, a spokesman said.

"The whole of Kirkuk has fallen into the hands of peshmerga," said peshmerga spokesman Jabbar Yawar. "No Iraqi army remains in Kirkuk now."

Kurds have long dreamed of taking Kirkuk and its huge oil reserves. They regard the city, just outside their autonomous region, as their historical capital, and peshmerga units were already present in an uneasy balance with government forces.

The swift move by their highly organised security forces to seize full control demonstrates how this week's sudden advance by ISIL has redrawn Iraq's map – and potentially that of the entire Middle East.

Since Tuesday, black clad ISIL fighters who do not recognise the region's modern borders have seized Mosul and Tikrit, home town of former dictator Saddam Hussein, as well as other towns and cities north of Baghdad.
In the wake of the unfolding crisis, multiple outlets report that Iraqi officials would be open to U.S. airstrikes to thwart ISIL's march towards Baghdad. According to IBT, Iraqi PM Nouri al-Maliki actually asked the United States for an airstrike, but was allegedly rejected.
Read more about the situation here, and watch a segment below, via CNN:
— —
>> Follow Andrew Kirell (@AndrewKirell) on Twitter
Have a tip we should know? tips@mediaite.com