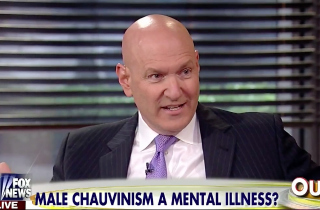 File this one under hilarious lack of self-awareness.
Fox's resident opportunistic psychiatric expert Keith Ablow sat down with the Outnumbered ladies on Thursday afternoon to lambast America's resident opportunistic feminist lawyer Gloria Allred for making a whacky diagnosis for UCSB shooter Elliot Rodger.
Take a moment to let that process: Slimy pundit whose entire TV career is based on psychoanalyzing people he's never met is taking issue with slimy lawyer psychoanalyzing someone she's never met.
Appearing on MSNBC earlier this week, Allred declared that Rodger was afflicted by the mental illness she called "male chauvinism." In response, Ablow said on Thursday that Allred is "laying over it her own political agenda" and "she can't separate herself from it."
On a related note: "Keith Ablow: Obama's Grandma 'Didn't Trust People of Color,' So He's Taking It Out on America."
But I digress.
The Fox shrink suggested that Allred's diagnosis was completely over-the-top and seemingly another attempt by the feminist lawyer to get herself into headlines. "It is so preposterous and crazy you think she would shrink out of the limelight," he said.
That reminds me of some other ridiculous, fake diagnoses aimed at garnering attention: "Fox's Dr. Keith Ablow Blames Chris Lane Murder on Facebook, Abortion Laws," "Keith Ablow Kinda-Sorta Blames FL Shooting Victim Because 'Data Rage' and 'Machines'," "Keith Ablow: Sex Ed Leads to Children Discussing Threesomes."
"How does a person like that end up going back on TV ever to say something anybody takes seriously?" Ablow asked his Outnumbered colleagues.
I know, right?!
Watch below:
— —
>> Follow Andrew Kirell (@AndrewKirell) on Twitter
Have a tip we should know? tips@mediaite.com