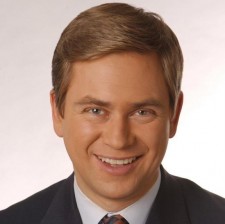 Is America tired of "Idol"? I know I'm getting there. It's as if the well-oiled machine has stalled – and those in the driver's seat aren't sure how to get things running smoothly again.
There's no single factor. I miss Paula Abdul more than I thought I would, but her departure didn't leave too big of a hole. And it's not that this season's contestants are lacking in the talent department. It's just that it all seems so … boring. Ratings for the show reflect the boredom. Last week's numbers were the lowest since 2002. It bounced back a little last night with "movie night" performances from the final four, but an audience of 18.7 million viewers is still cause for concern at the Fox franchise.
For me, the key to the final month of "American Idol" is the transformation. It's compelling to see the contestants turn awkward into amazing. That's how I remember Jordin Sparks in Season Six. Clearly, she brought talent from the beginning. But it wasn't until the middle of April that it started to become clear that her star quality was outshining her inexperience. It was fun to watch in the final stretch as she hit one home run after another.
I thought the contestant who showed the most growth this season was young Katie Stevens. She didn't have what she needed to win, but I was eager to see her perform each week because she kept getting better. In contrast, this season's early favorite, Crystal Bowersox, has been a contender all along. She was so strong coming in that instead of bringing excitement, she seems to bring exactly the same thing from one week to the next.
Last year, producers had Adam Lambert to keep things interesting every week. Scott MacIntyre and Danny Gokey gave the producers sad back stories to work with. Somehow, this time round it's been hard for me to even remember all of the contestants' names. It would be easy to say that the format is old. But I think the bigger problem is that the contestants this year haven't given us much to get excited about. "Capable" is the unenthusiastic word that comes to mind.
I did see a few sparks last night. Most notably, the standout duet that paired Lee DeWyze with Bowersox. I smiled through the whole thing because it was clear in the first 20 seconds that they'd nailed it with their rendition of "Falling Slowly," that song from "Once." But those 'that's what this is all about' moments have been rare this year.



It's not as though all of "Idol" has jumped off the track. Ryan Seacrest has been solid, as usual. The show's production has met its own high standards. And there's been little to complain about with the selection of guests – Harry Connick Jr. was exceptional in his roles as mentor and performer. But these are just the trimmings on "Idol." The main course is the music delivered by the contestants. As viewers, we'd like to feel that the meal was at least as satisfying as last year's.
There are some other factors worth mentioning. ABC's "Dancing with the Stars" has had a strong season. And it seems apparent that "Idol" is hurt directly when the shows are scheduled on the same night. There's also an indirect impact when time-challenged viewers pick one competition over the other. The DWTS casting is great this season and ABC benefited from the show's early media buzz: Kate Gosselin was at the top of the gossip cycle when the season started, Erin Andrews had just been in the news after the hidden camera bust and Evan Lysacek went straight to the dance studio from his Olympic gold in Vancouver.
I haven't decided whether the new faces at the "Idol" judges' table have hurt ratings. I'll admit the show does miss the unpredictability of Paula's comments. Ellen DeGeneres has moments of brilliance, like last night in response to the duet from Big Mike Lynche and Casey James. (They sang "Have You Ever Really Loved a Woman" and she dryly replied, "Yes, I have.") She's exceeded my expectations but I'm still not sure that she needs to be there. Kara DioGuardi has stepped it up in Paula's absence. Her insights have been good and the chemistry with Simon seems legitimate, but she's too reliant on her 'feel the words' theme. It's hard to insist that a contestant be 'believable' when the themes and song catalogs are dictated by the producers.
That brings us to Simon. I've made the case before that Simon Cowell's ability to get the critique right every time is the driving force behind the show's success. He's been too nice this season. Not always, but I think there's been a definite pullback from his nastiest work. The warm Simon played well last year when Susan Boyle put him in his place on "Britain's Got Talent" (video below). I suspect he's softening his "Idol" critiques to help Americans adjust to the mentor role he'll play when the US version of X-Factor makes its debut.
I don't want to say the answer for "Idol" is to encourage Simon's inner grouch to reappear, but that's what it might take to keep viewers from remembering Season Nine as "American Idle."
TV newsman Pat Kiernan picks his favorite stories from the morning papers each weekday on NY1 News and PatsPapers.com. He's known to VH1 fans as the host of World Series of Pop Culture. Twitter: @patkiernan
Have a tip we should know? tips@mediaite.com