Is Anyone Going to Retract Their Baseless Claims That Fox News Leaked the Tucker Tapes?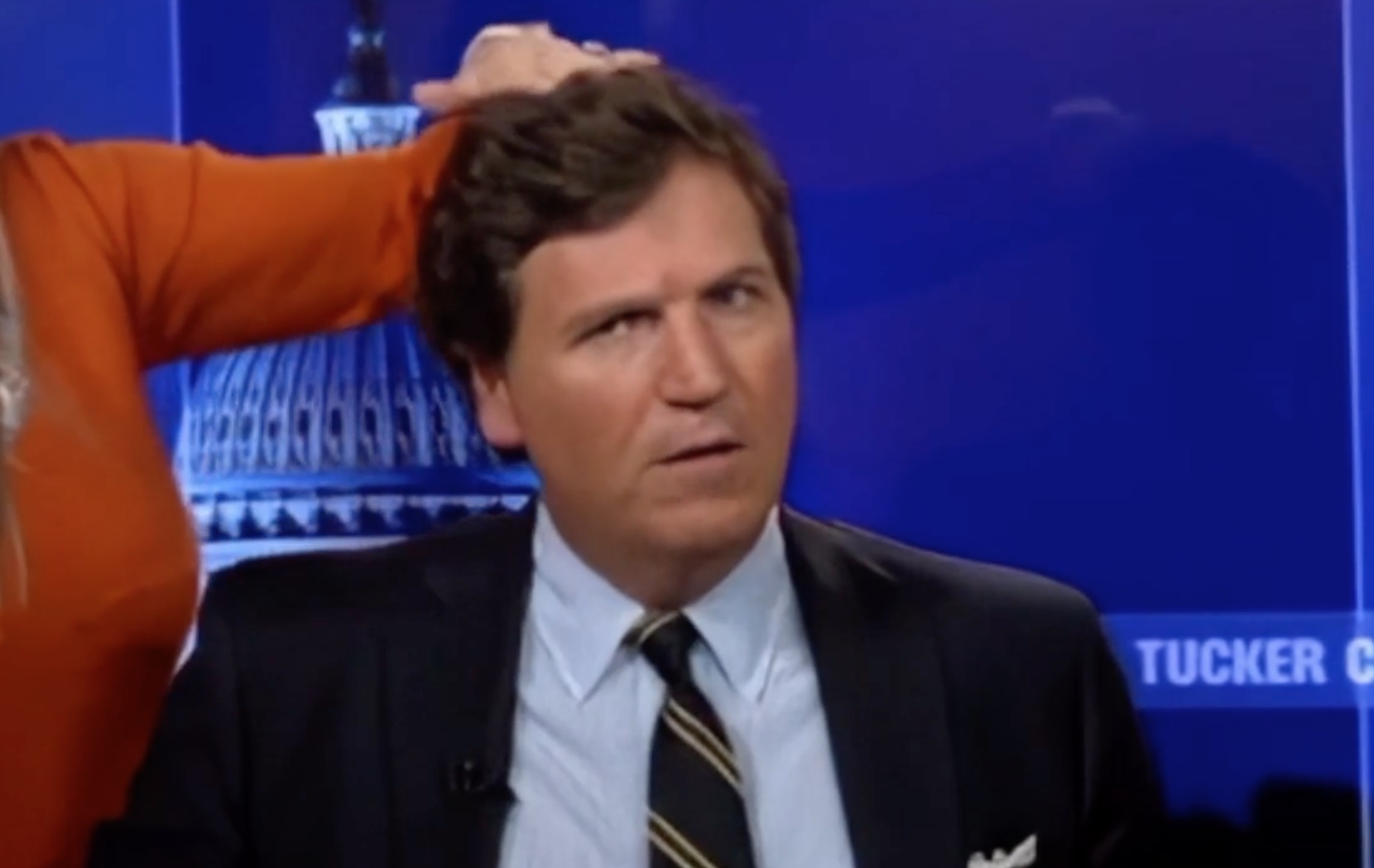 Last week, news broke that authorities had searched the home of veteran journalist Timothy Burke in connection with the publication of leaked tapes of Tucker Carlson, which surfaced in the media just days after the flame-throwing host was fired from Fox News.
The Tampa Bay Times first reported on the search and on a letter from a U.S. attorney in Florida writing to Fox to let the company know it may have been the victim of a hack or possibly other crimes like wiretapping.
Burke's lawyer maintains everything was done legally.
"He never hacked Fox News," attorney Mark Rasch told the Washington Post this past week. "We are confident that when all the facts come out, it will be demonstrated that Timothy never hacked anyone and that all the information he provided was accessible to the public."
The tapes in question include unaired clips from the interview between Carlson and Kanye West that were published by Vice last year, as well as the selection of hot mic videos of Carlson published by Media Matters after his ouster in April.
"Tim is a master at finding links to stuff publicly posted on the internet," Rasch said. "If a video is posted, public, unencrypted, and unprotected, then there's simply no crime committed when a journalist like Tim finds it, reviews it, and accurately reports on it, even where, and maybe especially where, the subjects wish it was suppressed. That's the essence of journalism in the digital age."
Rasch's statement and the Tampa Bay Times report fly in the face of claims from several right-wing media figures who accused Fox News of being behind the leak – regardless of how illogical that appeared to be.
Megyn Kelly, a former Fox News star, offered some mental gymnastics on her radio program in early May and outright accused Irena Briganti, Fox's senior executive vice president of corporate communications, of being behind the leaks. We were incredulous about that theory at the time: notably, the leaks included Carlson bashing Fox's streaming service, Fox Nation, did not contain any content that would offend his fans, and actually opposed Fox's reported interest in keeping Carlson to abide by his non-compete agreement.
Kelly went so far as spin a bizarre theory, involving Mediaite, to explain why she believed Briganti was behind the leaks:
Normally, somebody like me making claims like this about somebody like her would be all over a website like Mediaite, which covers journalists and news about journalists, and certainly when one journalist says something like I'm saying, umm, you know why it's not there? Because she's got 'em by the balls. They're afraid of her — she's their sieve of leaks and access to anything about Fox, so they're too scared to write it up…Umm, CNN, same — they also rely on this woman, because they need to go to her for access on stories like this one, Tucker, and they can't afford to upset this lady, because she's powerful.
Clearly, anyone who follows Mediaite or CNN is aware that both regularly cover Fox News, as we do with all media, through a critical lens.
Carlson's legal team first pointed the finger at Fox News leadership regarding a previous set of leaks of text messages to the New York Times. Carlson's lawyers accused Fox of fraud and breach of contract in a brutal mid-May letter, which also declared Fox was trying to "undermine, embarrass, and interfere" with Carlson's future career prospects. Carlson, who appears to be gearing up for a legal battle with Fox to get out of his remaining contract, claimed that any attempt to smear him by Fox would "constitute another breach of his employment contract," explained Axios, when reporting on the letter.
Notably, Carlson's contract runs through January 2025 and includes a non-compete clause, meaning if Carlson could in fact prove Fox was behind the leak he would be free to both compete against and attack his former employer. Axios reporter Mike Allen noted in early May the lengths to which Fox is willing to go to prevent that from happening. "Tucker vs. Fox could reshape the conservative news world. Fox, which has seen its ratings plunge in Carlson's slot since he was let go," Allen wrote reporting that Fox "wants to sideline him by paying him $20 million a year not to work."
"Make no mistake, we intend to subpoena Ms. Briganti's cell phone records and related documents, which evidence communications with her and all media, including, but not limited to The New York Times," the letter read. Fox News called the accusation "categorically false." While Carlson's legal team has accused Fox of being behind these leaks, Fox has asked Dominion Voting Systems to ensure no one on their side was leaking.
Carlson's camp continued this tactic regarding the video leaks as well and, after initially pointing the finger at Fox board member and former House Speaker Paul Ryan as being the leaker, moved on to accuse another board member in a bombastic late-May statement from Carlson's lawyer Bryan Freedman to Carlson's former publication the Daily Caller.
Now, however, with the revelation that federal authorities are investigating a potential hack at Fox News, the question remains will any of the figures who baselessly accused Fox of being behind the leak retract their comments? While the investigation continues and the source of the leaks still remains uncertain, all the information that has come to light in recent weeks has only served to further reinforce the notion that Fox leadership was not behind the leaks — no matter how juicy a media drama it would make.
The Daily Wire's Matt Walsh took to Twitter after Media Matters published the tapes to baselessly claim, "Fox News teaming up with Media Matters to smear Tucker Carlson is one of the slimiest betrayals I've ever seen." The Daily Wire is a competitor with Fox News in the right-of-center media space.
Donald Trump Jr. wrote at the time, "Fox News leaking to the left-wing New York Times to smear Tucker Carlson isn't just an attack on Tucker, it's an attack on all of his fans and conservatives everywhere!"
Many others weighed in similarly, such as Townhall's Scott Morefield who wrote, "Absolute scum, all of them. Two sides of the same coin. The irony is that these 'leaks' only make Tucker look better and more interesting than we thought he was."
Have a tip we should know? tips@mediaite.com
Alex Griffing - Senior Editor