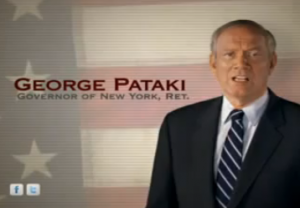 In a column called "The Great New Hampshire Heist," TIME's Mike Murphy suggests a possible dark horse candidate swooping to victory in the nation's first primary: former New York Governor George Pataki. Comparing Pataki's low profile "caper" to the media spectacle of Sarah Palin's bus tour, Murphy argues "Pataki is going to try to steal the New Hampshire primary."
Murphy concedes it's a long shot, but here's the logic: Pataki ignores the polls and the sideshows and gets on TV in New Hampshire with a strong message spot. Pataki moves up quietly in the polls, reaching second or third place by summer, and then, whammo:
The national media discover the Pataki surge and get bonkers about it. With that national attention, reboot the once massive Pataki money machine in New York State and start attracting more national money and support. Light the right match, and if it combusts correctly, stand back and watch the fire grow.
It'd be a fun theory–and just a theory–if it weren't for the fact that Pataki is on the air in New Hampshire with a strong message spot, airing on WMUR:
The ad comes from a Pataki-sponsored group called No American Debt and is perfectly attuned to New Hampshire's flinty primary electorate. So while others are playing cat and mouse with reporters, inspecting farms in Iowa with more hogs than people and pleading with legions of self-appointed Tea Party generalissimos, Pataki is running a very effective spot in New Hampshire.
Here's the New Hampshire spot, from No American Debt:
Have a tip we should know? tips@mediaite.com