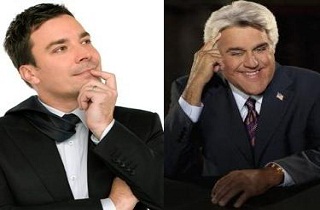 Sources tell the Hollywood Reporter's Kim Masters that Jay Leno's day holding down the desk at the Tonight Show are numbered and could possibly be over as soon as the 2013-2014 season. NBC executives are concerned that the increasing popularity of Jimmy Kimmel, particularly with young people, will hurt the network long-term in the late night show wars. So what will they do? Replace him with the younger host of Late Night, that's what! Wait, did we just wake up in 2009?
Yes, Jimmy Fallon, much like Conan O'Brien so infamously did before him, would move from the Late Night desk to the Tonight Show desk upon Leno's departure from NBC. Don't worry, it's totally understandable that you're feeling a wave of emotions about this. Why should we care this time? Well, because maybe NBC learned their lesson that last time they did this and botched things up so badly.
As you may recall the original Conan move was announced five years before it took place to head off any attempts by other networks to steal Conan away for a late night show. According to Masters this move appears to be an effort to stave off any moves by networks to jack Fallon to their airwaves while avoiding an awkward post-Tonight Show move by Leno. What Leno does after leaving the Tonight Show for the second time is anyone's guess.
The other big reason for NBC to push Leno out the door and move Fallon up to the Tonight Show slot is money. Leno is paid an estimated $15 million a year to produce his show. Leno took a very public pay cut in 2012 to save 20-25 jobs on his show.
Fallon is reportedly paid $5 million a year by NBC for his Late Night duties.
(H/T: Hollywood Reporter)
Have a tip we should know? tips@mediaite.com