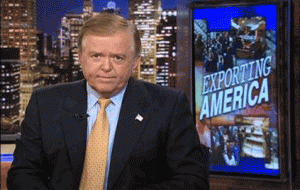 Buried in Brian Stelter's story about the battle between Fox News and the Obama Administration is a little nugget: Last month, Lou Dobbs met with Roger Ailes.
Fox Business Network, which recently picked up firebrand Don Imus, is reportedly interested in Dobbs, whose controversial anti-immigration, anti-Administration stance has sat awkwardly with the rest of CNN's programming of late.
Dobbs got some unwanted attention for CNN this summer during the "Birther" controversy after giving airtime to Birther conspiracy theorists questioning President Barack Obama's birth certificate and nationality. Over the course of his "reporting" on that story — including after an internal memo from CNN president Jon Klein said the story was effectively dead — Dobbs lost 15% of his viewers. CNN meanwhile, was distancing itself from Dobbs, who continue that line of reasoning on his radio show — and subsequently became the target of protests and boycotts from several liberal and Hispanic organizations.
The AP in August called Dobbs "a publicity nightmare for CNN"; Gawker said "Well done Lou, well done. Just go ahead and fax your resume over to Fox News now, because you've probably alienated the average CNN viewer to the point of no return."
And now, this news, which Stelter reported was sourced by two separate people within the network. Stelter said that FBN was "keen on" Dobbs, as certainly a meeting directly with Ailes would suggest. So, too, would this quote in the piece: "Don't pick a fight with people who like to fight." That, according to one of Stelter's sources (an executive at Fox) was said by Roger Ailes, about the Obama Administration and their recent aggressiveness towards Fox. Dobbs, for his part, has shown that he has no problem picking fights; it only makes sense for him to find a home at a network where they do, too.
Related:
Fox's Volley With Obama Intensifying [NYT]
Radio Lou Dobbs Slowly Killing Career Of TV Lou Dobbs [Mediaite]
Controversy Surrounding Lou Dobbs Has Failed to Increase His Ratings [Observer]
El Diario's Case Against The "Hateful Lies" of Lou Dobbs [Mediaite]
Have a tip we should know? tips@mediaite.com