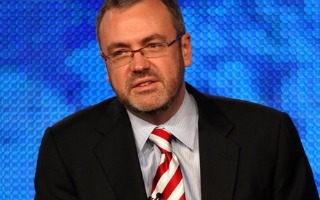 The majority of chatter around the proverbial news media water cooler has been that Jeff Zucker could get the prized President of CNN Worldwide role, a prestigious seat that became available when Jim Walton announced he would vacate at year's end.
As I've written here before, despite his controversial history running NBC, Zucker would be a smart replacement (if he would take the job) in the wake of his success with NBC Universal's news and cable assets.
But in recent days, we have learned that NBC News President Steve Capus wants the job. Badly. And high-level producers around 30 Rock are talking as if he might actually get the job too. For Capus, who is long rumored to be on the way out at NBC News, landing the CNN job would be a professional 180°, maybe even more, since the CNN gig would afford him far more autonomy than he currently enjoys. Even at the height of his influence, Capus exercised minimal authority over MSNBC since his boss, Zucker, wasn't shy about managing the news channel closely. Now Capus reports to management veteran Patricia Fili-Krushel who is a key member of Comcast CEO Steve Burke's inner circle.
And Capus' recent record with NBC News isn't something one would want to campaign on. He has overseen flailing ratings for news shows like Today and Rock Center. With that said, Capus is well-respected within the industry for his news judgment and I hear his staff admires his tenacity in fighting for the news division as well as the fact that he worked his way up through the ranks of NBC News.
But CNN is in desperate need of new leadership, new ideas and a new direction… not a safe choice.
The parlor game continues…
— —
>> Follow Andrew Kirell (@AndrewKirell) on Twitter
Have a tip we should know? tips@mediaite.com