Is Obamacare's Messy Roll-Out Redeeming the GOP's Shutdown?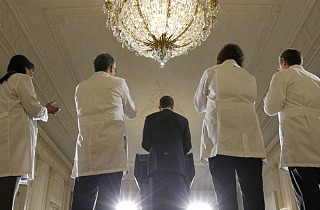 "I really don't like the Republican tactics, but at least now I can understand why they are so pissed about this."
If you had to crystallize the Democratic Party's greatest fear into a single sentence, it would be the one above. This was the sentiment expressed by Cindy Vinson, a 60-year-old retired teacher and San Jose, California resident, who learned last week that she will be responsible for $1,800 more in annual costs for an individual health care policy following the implementation of the Affordable Care Act.

"I was laughing at [House Speaker John] Boehner — until the mail came today," Tom Waschura, a 52-year-old Portola Valley resident and partisan Democrat who discovered his family of four will now be responsible for $10,000 more in insurance costs.
The public will be hard pressed to find a Republican inside the Beltway who believes shutting down the government was a great idea. The polls conducted prior to and immediately following the shutdown show that the public was opposed to using this extraordinary tactic to defund the ACA.
But in the wake of last week's "excruciatingly frustrating" Obamacare roll-out, to quote Democratic California Rep. Adam Schiff, the shutdown appears like less of a flailing overreaction to the ACA and more like a noble last stand.
RELATED: Dem Rep: Obamacare Glitches 'Excruciatingly Frustrating,' 'A Missed Opportunity'
Even some in the media are warming to the idea that the Republican Party might find their attacks on the ACA vindicated by its clunky roll-out. If only the media were not singularly focused on the chaos created by an unnecessary shutdown, they dishonestly lament.
This is nonsense. It is demeaning to their audience to suggest that the public, like the press, is simply unable to wrap their heads around two simultaneously unfolding stories at once. Secondly, it ignores what both Vinson and Waschura have already concluded: that the GOP forced a shutdown over the implementation of the ACA. They did not need a compliant press corps to guide them to that conclusion. They were paying attention.
Republicans have done a rather spectacular job of mismanaging the communications effort over this shutdown. The GOP appeared to hope that by refusing to prosecute the conflict they started, it would simply resolve itself. Indeed, reports indicate that the GOP in Congress has spent more time attempting to position their particular faction as bearing the least responsibility for the shutdown than seeking an advantageous position in negotiations with Congressional Democrats and the president.
But events might just be conspiring to redeem the GOP in the eyes of voters. This shutdown will be inextricably linked to the roll-out of the ACA. And, if Obamcare's public debut does not improve, voters may look back on the shutdown as being partially justified.
[Photo via AP]
— —
> >Follow Noah Rothman (@NoahCRothman) on Twitter
Have a tip we should know? tips@mediaite.com