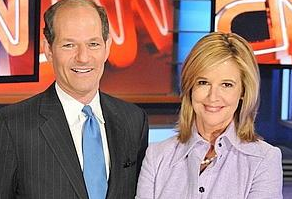 Citing anonymous "insiders," the News Corp-owned New York Post suggests today that Parker/Spitzer co-host Kathleen Parker is–as the Post puts it–"so fed up with playing second fiddle to the hooker loving ex-gov that she's threatening to walk."
As the Posties tell the story, Eliot Spitzer's a bit of a control freak. Now who would've thought a thing like that?

Washington Post columnist Kathleen Parker actually stormed off the set of the "Parker Spitzer" show during a pre-taping a few weeks ago — furious that her co-host is continually allowed to take charge of their nightly CNN chat-fest, the insiders said.

Although still fuming, Parker did return to wrap up the segment, they said.

But she's angry that the show's producers are allegedly doing nothing to play up her strengths on the ailing show, the sources said.
Oh, those "insiders" always tell the best stories. And CNN spokesperson Barbara Levin tells the Post the show, its producer Liza McGuirk, and Parker herself are all fine and dandy:
"CNN is standing by the show," network spokeswoman Barbara Levin told The Post.

"Liza's a terrific producer, and any suggestion that she's on her way out is patently false.

"We love Kathleen," too, Levin added.
As for the idea that Spitzer might try to dominate conversation on the show? Well, that's a reality that's been mocked–by Parker herself in promos for Parker/Spitzer. In one, Parker tells viewers she has to use a "mute Eliot" button to shut him up long enough for her to get a word in edgewise.
Have a tip we should know? tips@mediaite.com