'Is The Goal To Bury The Economy?' Fox News' The Five Battles Over Obama's 'Balanced Budget' Comments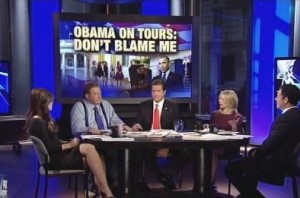 Once they had moved on from wall-to-wall pope coverage Wednesday afternoon, Fox News' The Five decided to tackle President Obama's recent interview with ABC News' George Stephanopoulos, in which the president asserted that his "goal is not to chase a balanced budget just for the sake of balance."
This statement set off a major debate among the hosts, with Bob Beckel as the president sole defender and Eric Bolling as his main adversary.
Bolling was seemingly outraged by Obama's comment, asking, "Really? So what is the goal, sir?" He argued that a "balanced budget is the only way to bring economic prosperity to the country. If that is not the goal, I'm not sure what is. Is the goal to bury the economy?"
Perhaps Bolling did not fully listen to the second part of the president's statement, which was played on air just moments earlier, in which he answered those questions. "My goal," Obama continued in the ABC interview, "is how do we grow the economy, put people back to work, and if we do that we are going to be bringing in more revenue."
Beckel fired back at Bolling, saying that "everyone is freaked out about a deficit that does not matter." He asked the group, "what was it today when you woke up in the morning about the debt that affected your life? The answer is absolutely nothing." Beckel asserted that "the way to get deficit and debt under control is get people back to work." And he said that the worst way to achieve that goal would be to implement the cuts in Rep. Paul Ryan's "off the wall" budget.
Beckel and Bolling represented the ideological extremes in the budget debate that Dana Perino set up at the beginning of the segment, between liberals on one side who think debts and deficits don't matter and conservatives on the other side who think they're the only thing that matters. Perino established President Obama and Senate Democrats as residing in the middle ground of these two sides, simply wanting to "stabilize" the debt while working to improve the overall economy.
Watch video below, via Fox News:
—
>> Follow Matt Wilstein (@TheMattWilstein) on Twitter
Have a tip we should know? tips@mediaite.com