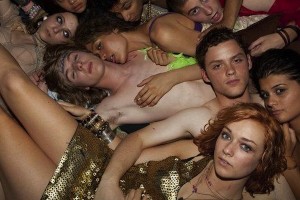 There are many ways you could have heard about the TV show Skins? You could be from England where the show originally became (and still is) a huge sensation. You could watch MTV where a new remake just premiered. You could be a New York subway passenger and, therefore, someone who has spent the past month getting leered at by the half-naked cast of said remake in thousands of ads. Or perhaps you read the New York Times this morning and learned that the show is SO DAMN RACY that MTV execs worried that they'd be arrested for child porn! Uh huh. Sure.
The New York Times article has some interesting information about the making of the new MTV series which debuted last week. However, the only tidbit that people are going to take away is the child porn story right at the top. And I'm sure that's exactly what MTV wanted.
Here's how it's described:
"In recent days, executives at the cable channel became concerned that some scenes from the provocative new show 'Skins' may violate federal child pornography statutes.

The executives ordered the producers to make changes to tone down some of the most explicit content.

They are particularly concerned about the third episode of the series, which is to be broadcast Jan. 31. In an early version, a naked 17-year-old actor is shown from behind as he runs down a street. The actor, Jesse Carere, plays Chris, a high school student whose erection — assisted by erectile dysfunction pills — is a punch line throughout the episode.

The planned changes indicate that MTV, which has been pushing the envelope for decades, may be concerned that it pushed too far this time."
According to the article, some MTV executive watched a cut of the show and suddenly freaked out because they were afraid that they had broken child pornography laws. They rushed to have the episode in question edited. And then…just for kicks I suppose…they decided to call up The New York Times to have them report on the whole thing. If you believe that, well, you're probably pretty naive (no offense!). While I'm sure there's a possibility that MTV edited a scene from the show after standards and practices got a look at it, I have pretty high doubts anyone was legitimately worried about getting hauled off to jail. No, this seems like nothing but a rumor designed to get a new show some press.
But what does that mean? Basically it means that MTV is now marketing their show with the promise of potential child pornography and the media is helping them. Not only did The New York Times cover this "story" (on the front page!), but a bunch of other media outlets picked it up. Morning Joe did a whole segment this morning that began with Joe Scarborough asking "Why should I be afraid of Skins?" You know there were some good high fives all around the MTV offices when that sentence got uttered.
Shows like Skins have always gotten by on their controversy and the promise of scandalous content. A few years ago, the show Gossip Girl used a brilliant ad campaign that quoted negative and outraged reviews from the likes of the Parents Television Council. However, actually going out and saying the phrase "child pornography" is just so damned cynical. MTV is basically betting that they will get more viewers if people think there are actual naked 15 year olds on this show. They may be right but, God, is it a creepy way to run your business.
So, no, Skins is not child pornography. In fact, it's a neutered version of the original British show (which, by the way, was actually pretty darn good for two seasons) since MTV isn't able to feature profanity or nudity.* People are going to say MTV should be ashamed and they certainly should. Not for airing an edgy show, but for trying to profit off the demand for child porn. And anyone who reports this nonsense should feel ashamed for believing it.
The New York Times Article can be found here. Below is the Morning Joe segment:

Have a tip we should know? tips@mediaite.com