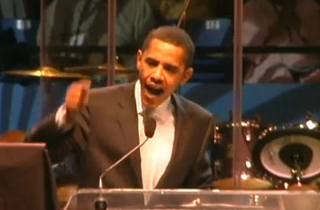 Earlier this afternoon, Matt Drudge teased a "curious" tape that will drop tonight and cause "controversy" by igniting "accusations of racism — in both directions!"
Drudge also claimed that an unnamed news network was internally debating whether it should air such a bombshell video the night before the first presidential debate.
Eventually, the Drudge Report's homepage sported the famous animated siren, with a headline revealing the TV network and dubbing the video "Obama's Other Race Speech":

During the final segment of Fox News' The Five, co-host Eric Bolling announced that tonight at 9 p.m. Sean Hannity would air this "bombshell" tape… and the frenzy to figure out what this tape might be raged on.
That was until Drudge updated its teaser headline with the following image: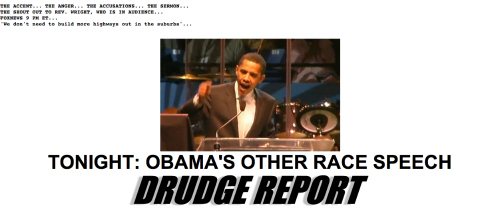 If we are to believe that this particular screenshot is from the actual video Hannity plans to air tonight, then it turns out that speech that has already existed online since 2007.
BuzzFeed Politics located a video of then-Senator Barack Obama speaking at Hampton University in June 2007 before pastors and ministers, wearing the same exact outfit seen in the Drudge image… and speaking in front of the same background.
However, Drudge eventually added quotes to their tease:
"We don't need to build more highways out in the suburbs. We should be investing in minority-owned businesses, in our neighborhoods."

Poor people "need help with basic skills, how to shop, how to show up for work on time, how to wear the right clothes, how to act appropriately in an office."

"My pastor, the guy who puts up with me, counsels me, listens to my wife complain about me. He's a friend and a great leader. Not just in Chicago, but all across the country."…
And these specific quotes are not found within the 2007 video that BuzzFeed found. However, within several minutes, Drudge also added a tease for the "unscrubbed" video to be released.
So perhaps this is the video Drudge has been teasing, but there is a longer unedited version they believe could be damaging to the Obama presidency?
Look for our report on Hannity's airing tonight. And we will update here as events develop.
Watch the "edited" 2007 speech below:
UPDATE: BuzzFeed found two clips that are not included in the original YouTube video, which is reportedly missing a chunk from the top of Obama's speech. This extra clip also includes the praise for Rev. Jeremiah Wright that Drudge teased in the above quotations.
We've put to the two extra videos together. Watch below:
UPDATE #2:
To read the full transcript of the 2007 speech CLICK HERE
UPDATE #3: Watch Tucker Carlson cover Drudge/Hannity's 'Secret' Video in June 2007 On MSNBC below:
UPDATE #4:
The Daily Caller has posted the full video below:
— —
>> Follow Andrew Kirell (@AndrewKirell) on Twitter
Have a tip we should know? tips@mediaite.com