Isaiah Washington to Chris Rock: If You Don't Want to Get Pulled Over, Drive a Cheaper Car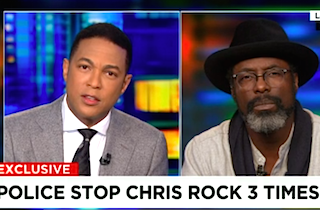 Over the past couple of months, comedian Chris Rock has been pulled over police at least three times. But after he posted a third selfie with flashing blue lights behind him, he got some unsolicited advice from actor Isaiah Washington on Twitter. In the former Grey's Anatomy star's view, all Rock needs to do if he doesn't want to get stopped by the cops is drive a less fancy car.
Washington tweeted on Wednesday:
I sold my $90,000.00 Mercedes G500 and bought 3 Prius's, because I got tired of being pulled over by Police. #Adapt @chrisrock

— Isaiah Washington (@IWashington) April 1, 2015
After he started taking some serious heat from critics who pointed out plenty of black men in less expensive cars get pulled over on a regular basis, he followed up his message with this:
Anyway, you millennial's critique and misconstrue my message to @chrisrock I'm getting back to my work to help free all y'all. #Truthdom

— Isaiah Washington (@IWashington) April 1, 2015
The uproar landed Washington an appearance on CNN Tonight with Don Lemon, where he attempted to explain his point of view on the matter. As an "American citizen," Lemon said Rock has the right to drive whatever car he wants and asked Washington what he means by "adapt."
Washington told Lemon a story about getting pulled over by a police officer who approached his Mercedes with his weapon drawn while his two young children were in the backseat "terrified." Even after he explained to the cop that he was a "celebrity," he said it made no difference.
RELATED: Chris Rock's Pulled-Over Selfies Don't Tell the Whole Story; Here's Why
In terms of what Rock should do, instead of simply tweeting out photos, Washington said, "He should reach out to the local police officers and question why they're pulling him out."
The only real explanation Washington could offer as to why he's been pulled over less often now that he drives Prius is that he tinted the windows even darker than he did on his Mercedes.
Watch video below, via CNN:
[Photo via screengrab]
— —
>> Follow Matt Wilstein (@TheMattWilstein) on Twitter
Have a tip we should know? tips@mediaite.com