ISIS Mimics Cable News Concept as Countdown for Journalist Hostages Reaches Zero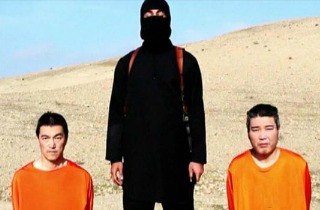 Just one year ago, most Americans had never heard of ISIS. And according to the Obama Administration, al Qaeda was decimated and on the run. Terrorism was still a threat, of course, but the focus had turned more toward lone wolves and splinter groups carrying out small-scale attacks (See: Boston) than anything like 9/11.
Fast forward to today: ISIS is everywhere. Most Americans — even those who believe Martin Luther King, Jr. is still alive — probably have at least an inkling that they're the bad guys doing very bad things. Even Tom Brady evoked the Islamic State during his interrogation press conference yesterday when he mocked the media frenzy by saying, "Things are gonna be fine. This isn't ISIS. You know, no one's dying."
ISIS, of course, entered our collective psyches after American journalist James Foley was beheaded in August. But beheading of American journalists had occurred before (See: Daniel Pearl of The Wall Street Journal not long after 9/11 by al Qaeda and specifically Khalid Sheikh Mohammad). However, the Foley beheading was much more impactful because of the unfortunate option of being able to see courtesy of ISIS posting it on YouTube. And for those who didn't watch it, media around the world now had their hands on the video, fueling coverage to a fever pitch. Most importantly, the video was made available shortly after the actual beheading occurred.
This pales in comparison to Mr. Pearl, who was executed in Pakistan — a cowardly act documented via photos (remember, this was pre-camera phone) and videotape. In the case of the latter, that tape was handed to Fazal Karim, a member of Harkat-ul Mujahideen, who later handed the tape off to a Pakistani courier, who in turn delivered it to an FBI agent in a Karachi Sheraton. The media never got ahold of that video, of course, greatly limiting the public impact of the Pearl beheading when compared to that of Foley, which turned ISIS into al Qaeda 2.0 seemingly overnight because of the instantaneous reach to end users (instead of just the FBI) via YouTube.
But with each beheading since, even those of Americans like journalist Steven Sotloff and aid worker Peter Kassig, the impact has become less and less. That's not to say Foley's death is any more tragic than Sotloff's or Kassig's, but in terms of the amount of media coverage received, the time allocated greatly decreased from Foley to Sotloff to Kassig because Americans were quickly numbed with each passing story on the subject.
With that in mind, the media team of ISIS — and yes, it exists — has come up with a twisted but effective way of getting the attention of governments and media alike by adding countdown clocks to its beheading video threats. It's a concept that the cable news networks — some more than others — use to build anticipation and hype around events like the State of the Union, polls closing on an election night, or the countdown to a government shutdown. Note: This isn't a criticism, as very few big cable news stories can actually be predicted and therefore scheduled. But when they can, rest assured a clock will be there to make that event seem even more important.
In the case of ISIS, the organization has added a countdown clock to its latest threat around beheading two more journalists, this time those from Japan. ISIS has instructed that Japanese government that unless $200 million in ransom is paid, 47-year-old Kenji Goto and 42-year-old Haruna Yukawa will be executed (Goto reportedly traveled to Syria to rescue Yukawa). The clock addition comes shortly after ISIS announced its intention to launch a 24/7 news network. The plan, according to Israeli and international media, will broadcast "round-the-clock news and commentary that supports its jihadist ideology." This idea may sound silly to us, but it certainly is a serious one for ISIS, who understands the power of media and what it can do to advance recruitment, fundraising.
Most importantly, and most disturbingly, the Islamic State has become proficient in the use of media — broadcast, online, social — to promote its most potent weapon:
Fear.
— —
>> Follow Joe Concha on Twitter @JoeConchaTV
Have a tip we should know? tips@mediaite.com