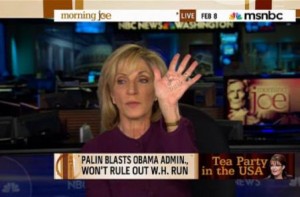 In case you're wondering how the Sarah Palin "Telepalmter" story is going to play out this week, look no further than this morning's Morning Joe. NBC News' Andrea Mitchell satirized the former governor (and future candidate for President?) by writing her colleagues' names on her hand, and Joe Scarborough pushed back with the omnipresent conservative TOTUS meme, which states that every politician except President Obama is allowed to use a teleprompter.
Mitchell's display should provide ample grist for Palin supporters in need of a juicy target, and more are sure to come.
Here's the Morning Joe segment.
Scarborough's pushback ignores the fact that Palin's cheat sheet would seem to indicate she knew what questions were coming from her already-friendly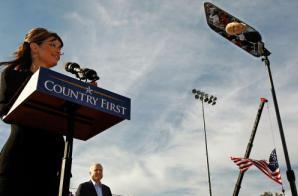 interrogator, a sharp contrast from President Obama's visit to the Republican House Lion's Den Friday before last.
In fact, what makes Palin's palm Post-it so delicious to her detractors is the fact that she had just referenced the teleprompter meme in her speech, a meme which ignores others' (including Palin's) 'prompter use and the fact that the President is far more involved in writing his speeches than most other politicians.
That was just a warm-up, apparently, as Mitchell repeated the gag later on The Morning Rundown.
This kicks off what should be a long day of Palin mockery, especially on MSNBC. Keith Olbermann is likely to lead with "I told you so."
Mitchell's mockery, though, is something of a gift to Palin – as a respected journalist taking a pretty good shot at a politician, Andrea will make a great villain for Palin's supporters to shift the focus to.
Have a tip we should know? tips@mediaite.com