'It Was a Dog and Pony Show': Carrier Employee Feels Trump Lied to Workers About Deal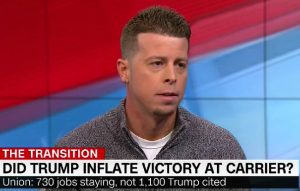 Earlier this week, the union representing workers at the Carrier plant in Indianapolis in which President-elect Donald Trump declared a job-saving victory hit back at Trump. They pointed out that they were given a bit of a bait-and-switch over the number of factory jobs that would remain at the plant rather than move to Mexico.
Instead of the 1,100 figure that Trump told the workers during his appearance, the number was actually 730. With the closure of another plant in Indiana, Carrier is sending roughly 1,300 jobs down south, including around 550 from the Indianapolis factory.
One of the union's spokesmen, TJ Bray, showed up on CNN today to further discuss his disappointment over this revelation. Speaking to host Kate Bolduan, Bray explained that Trump's initial number included about 400 R&D jobs that were never scheduled to leave.
Bolduan asked Bray if he felt "lied to." "Well, in a way we do," the union rep answered. "We feel like, you know, we thought you were going to save all the jobs. We have 1,400 people at the facility — union, factory, regular jobs — and he didn't say anything about the 400 that were already going to stay."
He continued, "So you know, it kind of seems like it was a dog and pony show. We were happy that no doubt some jobs were saved but disappointed we are still losing a lot of workers."
When asked if he vote for Trump, Bray revealed that he didn't because he "didn't know how to take the guy."
"I still don't know how to take the guy," the Carrier worker added.
Watch the clip above, via CNN.
[image via screengrab]
–
Follow Justin Baragona on Twitter: @justinbaragona
Have a tip we should know? tips@mediaite.com