'It Was About Time': Robert Zimmerman, Jr.'s Surprising Reaction To Obama's Trayvon Comments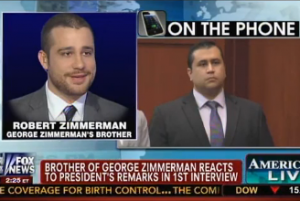 Just a few minutes after President Obama made some surprise remarks about Trayvon Martin, Robert Zimmerman, Jr. called in to Fox News to react to the address, and his response was largely positive. He said the president struck the right tone by talking about the "teachable moments" from the George Zimmerman trial, and especially regarding his comments about giving young black youths "pathways and avenues to succeed." Zimmerman said "it was about time" Obama weighed in, and expressed that he was "glad he spoke out today."
Zimmerman added that sometimes with the right encouragement and role models, antagonistic engagement with law enforcement could be engaged, and agreed with Obama that a lot of soul-searching is needed to figure out how future tragedies can be prevented. However, he didn't think it was necessarily helpful for Obama or others to include hindsight about what could have happened if the races were reversed or other kinds of speculation.
He did think Obama was "very sincere in his remarks," and touted his message of togetherness by saying, "It should be beyond politics to stand united… to better address the needs of children." Zimmerman denied that the president or anyone from his administration has contacted his family, adding that he sees "eye-to-eye" with the president on the need to avoid arguing the case along racial lines.
And as for the expected Department of Justice civil rights investigation into his brother, Zimmerman called it "not necessarily a bad thing," but expressed his concern it's a result of political leaders "responding to pressure" instead of echoing Obama's sentiments in his initial statement and accepting the jury's ruling.
Watch the video below, via Fox News:
—–
Follow Josh Feldman on Twitter: @feldmaniac
Have a tip we should know? tips@mediaite.com
Josh Feldman - Senior Editor