'It Wasn't Racist, He Was Calling Attention to Racism!': CNN Trump Panel Goes Off the Rails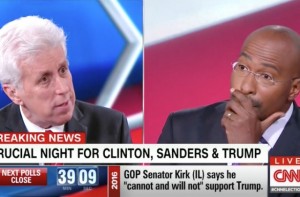 Donald Trump supporter Jeff Lord's insistence on CNN tonight that Donald Trump's race attacks are different from when liberals do it really set off pretty much everyone else on the panel, plus Anderson Cooper.
S.E. Cupp asked, "If the Republican party is supposed to be colorblind, then why is Trump the first to bring up the fact that this judge is Mexican?"
Lord said that Trump is arguing that it's the judge who is emphasizing race here, not him. Cooper again informed Lord that he is going out of his way to make excuses for Trump by interpreting secret meanings in what he said. Michael Smersonish warned Lord that if Trump's demands are acquiesced, it sets a dangerous precedent for an independent judiciary.
Everyone kept calling him out over and over and over, and Van Jones attempted to get him to see the irony of him not denouncing Trump for something he would denounce in a heartbeat if Trump said it. Jone asked, "Will you denounce what Trump said as racist?"
Lord cried, "It wasn't racist, he's calling attention to racism! Hello! Hello!"
Jones kept pounding away and told him bluntly that if he cannot call his racism, "you're beyond the ability of a rational mind to follow you."
Jones asked Lord if he would object to a black man like him saying no white man could be a fair judge. Lord's reply absolutely bewildered him.
Watch the full segment above to see Lord's answer, via CNN.
[image via screengrab]
— —
Follow Josh Feldman on Twitter: @feldmaniac
Have a tip we should know? tips@mediaite.com
Josh Feldman - Senior Editor