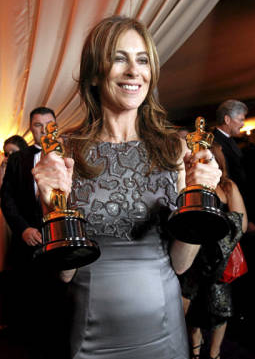 The Hurt Locker is not beloved by everyone. Some vets are not crazy about liberties taken and would prefer more verisimilitude. Some preferred ass-kicking Nazis, some were rooting for Precious, and some simply prefer ye olde big-budget blockbuster made by the director's ex-husband. But at last night's Oscars there was no mistake: The Hurt Locker was the film of the night, and of the year — and it all came back to Kathryn Bigelow.
Bigelow had a huge day yesterday. Not only did her film win Best Picture up against the highest-grossing movie of all time (made by her ex-husband, no less), but she broke through an insidious and persistent barrier for women: She won a Best Director Oscar. Sure, women make movies, but they are way fewer and further between then their male counterparts (Certainly Barbra Streisand knows the difference: She pointed out and as must be said, their African-American counterparts, one of whom have never won a Best Director Oscar, either). Well, now one of those barriers, at least, has been shattered.
That this would be the year for Bigelow seemed almost impossible a few months ago when the Avatar juggernaut began, but either way, her accomplishments for this film were well-known: Long, complicated tracking shots in an inhospitable climate; challenging subject matter (read: not a feel-good film), indie-sized budget (Bigelow and screenwriter Mark Boal were turned down repeatedly before Summit Entertainment – home of the Twilight franchise, of all things, decided to take a risk). This is the film of a director, as Bigelow herself has taken pains to point out; still, like it or not, she is the First, and with that designation comes the inevitable coda that, NB, she's a chick.
Does it matter? She doesn't even make chick films, with chicks in them, goes the chorus of petulant dissenting voices. Who cares, says Mary Elizabeth Williams in Salon: She's a female director, and she won the Oscar. (Williams also notes that when she was in film school, the lone female director she studied was Leni Riefenstahl. Yikes.) Besides, says Williams, no one is questioning James Cameron for a career's worth of creating ass-kicking roles for women. If other female directors are going to follow suit — in making films, let alone winning Oscars — then they, like male directors, should be celebrated for the breadth of films they make.
The fact that there is even quiet dissent about Bigelow points to just how important it is that finally a woman won. I mean, really — she doesn't make movies with chicks in them? Come on. As we saw with Katie Couric taking over the network news anchor chair, the "first" is only a big deal when it's the first; pretty soon, it seems like normal. But man, are we reminded what a big deal that first is every time it happens.
Did Bigelow set out to make The Defining Feminist Movie? No — she set out to make The Hurt Locker, at a certain time and place, based on a story she thought was important and as a next step in her career. As most of the HL team has made clear by now, the odds of Oscar recognition seemed pretty slim back in early summer when the film came out to quiet critical acclaim — and again at an awards screening event back in the winter when all of seven people showed up. Even just a few weeks ago it seemed that Cameron would be a lock, and it just wouldn't be her year. The fact that it was means we don't have to wait for who knows how long before another female director beats those odds again to compete in that circle — and now, it will probably mean a whole lot shorter before it happens again. Certainly Barbra Streisand would know the difference; I'm sure she well remembers the flak she got for deigning to want to direct. That was 20 years ago; times have changed. Last night, they changed again.
I will leave the last word to Williams, because she's the film school grad:
I hope every film school chick in the world is cheering her triumph, because it represents a victory over sexist college professors and dumbass studio executives and every producer who thinks ladies should stick to baby comedies. It represents the door opening just a little wider for talented, accomplished women to tell the stories they want to tell, whether they're about sweeping romance or kooky comedy or blowing stuff up. There is no need to take away one iota of her accomplishment by suggesting Bigelow earned it by being a dude in a dude's genre. She got it by being Kathryn Bigelow — a fierce, independent and utterly deserving filmmaker. She's not the king of the world. She is woman. Hear her roar.
International Women's Day, indeed. Well done, K.Bigs.
****
Bigelow's acceptance speech is below. She dedicates her award not to women, but to the troops. Like I said, she set out not to make the Defining Feminist Film, but The Hurt Locker; that's where the dedication belongs.
Kathryn Bigelow Is Not A Dude [Salon]
How Did 'The Hurt Locker' Defy The Odds At The Oscars? [LAT]
Woman In The News: Kathryn Bigelow [FT]
Have a tip we should know? tips@mediaite.com