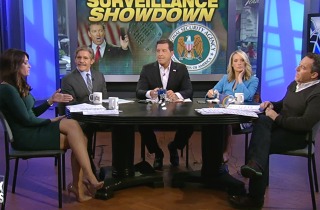 There is perhaps no better illustration of the disagreements on the right over NSA surveillance than this explosive debate that happened on Fox News' The Five earlier over the Patriot Act and Rand Paul holding it up on Sunday.
Greg Gutfeld was the harshest in ripping into Paul, saying, "The worst thing about Rand Paul, what makes him despicable, is saying that Republicans want a terrorist attack so they can blame him." And to Gutfeld, Paul is always trying to make this about how he personally is being victimized, not about the victims of terrorism.
Kimberly Guilfoyle and Dana Perino were right along with him, but Eric Bolling and Geraldo Rivera fiercely pushed back and argued that 1) the constitutional check and balance is important, and 2) there's no evidence the bulk phone data collection program has thwarted any terrorist attacks.
Gutfeld told them "it's a myth" and said they can't tout "aberrations" as the norm. He called Paul a "fool" as Guilfoyle argued that the NSA isn't going to broadcast intelligence victories because it would compromise U.S. security.
When Bolling brought up what President Hillary Clinton might do with that information, Guilfoyle testily said, "You can't compromise national security because you're scared of Hillary Clinton." Perino defended the intentions of the Patriot Act and swiped at Paul for "impugning the motives of others."
"You can couch it in all the patriotism and the rhetoric you want," Rivera retorted, "but the fact of the matter is where the rubber meets the road, this has not yielded one terrorist yet."
Watch the full segment below, via Fox News:
[image via screengrab]
— —
Follow Josh Feldman on Twitter: @feldmaniac
Have a tip we should know? tips@mediaite.com
Josh Feldman - Senior Editor