Melissa Harris-Perry Rails Against GOP Focus On IRS and Benghazi: 'It's All Political'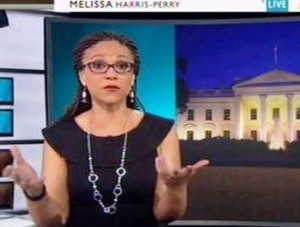 Melissa Harris Perry blasted the GOP on her show Saturday for what she sees as their parade of politics, claiming that the real scandal is about the GOP's personal politics aimed at putting our President in the "crosshairs."
Harris-Perry opened with some sarcastic satire, listing plot points from ABC's Scandal season finale to depict a real scandal, as opposed to pure politics being played out by the GOP. Pointing to Watergate, Iran-Contra, and the Clinton–Lewinsky affair as real scandals from America's presidential past, Harris-Perry dismissed the Benghazi, IRS, and AP investigations as nothing more than "political issues that merit discussion," not wall-to-wall cable coverage.
Asking her audience how she knows this, Harris-Perry played the 2010 Mitch McConnell admission that the top GOP priority was denying President Obama a second term. Now that Obama has been re-elected, Harris-Perry argued Republicans have turned to the next best course of action—stopping, blocking, and tying up the Obama agenda, and making sure that "all roads of every problem in Washington lead to President Obama."
She went on to show Congressman Dave Camp speaking at this week's IRS hearing, where he slammed President Obama for failing in his promise "to be different." Harris-Perry summed up the GOP's behavior as a calculated "mistake," emphatically revealing what the actual scandal going on is:
This is not about debating the real political questions at the heart of these stories…it's about following Mitch McConnell's mandate for the Republican Party. It's about stopping the President from accomplishing what he set out to do. The politics really are personal, and it's our President in the crosshairs.
Watch the segment via MSNBC:

—-
Follow Jordan Chariton (@JordanChariton) on Twitter
Have a tip we should know? tips@mediaite.com