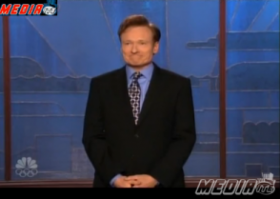 "This is very hard for me though, you know I've been with NBC for a really long time. A really long time." It doesn't matter that it's followed by a punchline, as are all the sentimental moments in tonight's Tonight Show. By now, we all know that he thinks that it sucks.
It's not quite as melodramatic as Gawker's Matt Cherette would have you think — "Defeated O'Brien Bravely Announces Crushed Dream" but as I have said before, this is hella bittersweet.
"I knew it was official this morning when NBC dropped off all my CDs and picked up its lava lamp," said Conan, and after 17 years with NBC — more if you consider years of SNL — it's gotta feel like a breakup. Then he got earnest:
"All kidding aside though, it was announced today that, very late last night, NBC and I reached an agreement and tomorrow — this is official — will be the very last Tonight Show with Conan O'Brien.

Now obviously, this is not a joke, this was not our first choice…it was not our eighth choice. But I am determined to make the best of this situation, so ladies and gentlemen, and people who are watching, here is the plan: Tonight, and tomorrow night, we're gonna have a lot of fun on television. That's what we're gonna do."
And they did — from the horse in the mink Snuggie watching restricted NFL football clips to Robin Williams singing Irishly and calling him a mensch to Peewee Herman's surprise visit to Ben Stiller's surprise visit that was ruined by Peewee Herman, to making fun of — NBC. There's plenty of that in the clip below.


p.s. I'm calling tomorrow night's "I am Conan O'Brien" – it's gonna be "I am Conan O'Brien — host of the Tonight Show."
Have a tip we should know? tips@mediaite.com