'It's Been An Interesting Year': Matt Lauer Talks Today Woes, Harsh Press Coverage With Jay Leno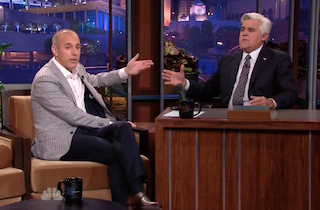 There's lots of drama — and no shortage of coverage of it — surrounding Matt Lauer and Today. Following Ann Curry's departure from the show, Lauer's public image took a hit. Sitting down with Jay Leno on Thursday night, however, Lauer said he's not one to complain about it.
Noting the hits Lauer's been taking the in the press, Leno asked the NBC morning show anchor how he's been holding up.
"I'm doing well. It's been an interesting year, no question about it," Lauer replied. "I'm not a guy who complains…I love this job, I really do."
To that point, Leno pointed to the flip side, those who have been coming to Lauer's defense. Including Kathie Lee Gifford, who recently offered a "very, very sweet" gesture.
"She went around and she just passed around a note and had members of the staff sign it just saying, you know, 'Things are going to be okay,'" Lauer explained, praising Gifford as one of the "dearest" people. "She's kind, and she's compassionate, and she's been there."
In adversity, you learn who your friends are, Lauer added. And Gifford is among them.
The segment moved on to a lighter note from there, with Leno and Lauer addressing Savannah Guthrie and Did-She-Just-Give-Matt-Lauer-The-Finger-Gate. (Guthrie insisted it was her index finger, there was facetious drama all around, and us viewers were obviously meant to think, "Aw, how cute they are.")
At the end of the segment, Lauer grew a more earnest again, telling Leno, "Through good times and bad times, you have been a terrific pal to me." Leno reciprocated, "You've been a great friend as well. You're the best in the business."
Take a look, via NBC:

Have a tip we should know? tips@mediaite.com