'It's Not that Hard, Trust Me': Ted Cruz Urges Democrats to Stand Up to Party Leadership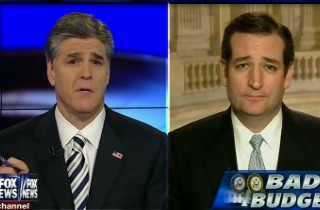 Appearing on Fox News Channel's Hannity on Wednesday night, Sen. Ted Cruz (R-TX) expressed his frustrations with Democratic and Republican congressional leaders who are urging their members to pass a bipartisan budget deal. Cruz revealed that he has privately and publicly urged Democratic members of the Senate to buck leadership for the good of the American people. "It's not that hard. Trust me," Cruz said from experience.

"It will rack up more debt in the near term in exchange for promised, hypothetical cuts in the future," Cruz said of the Ryan/Murray budget deal. "And it has more taxes and fees on the American people."
Host Sean Hannity said he was surprised to see Republicans vote for a budget deal that reduces pension benefits for military veterans. "It doesn't do the same, by the way, to civilian retirees in the federal government," Cruz added. "I don't know how you can defend it, and yet that was the Democrats insistence."
RELATED: Glenn Beck Declares Ted Cruz the Second Coming of Ronald Reagan
Hannity observed that Democrats in Congress have been able to maintain discipline with few defections on key pieces of legislation that their leadership insists its members support. He asked Cruz why Republicans have been unable to maintain the same level of discipline.
"I've privately urged a few Democrats, going 'Will none of you stand up to [Sen.] Harry Reid (D-NV)?'" Cruz said. "To be honest, Sean, I have tried to urge them, you know, it's not that hard to buck party leadership. Trust me."
"I know it in more than a hypothetical way," he continued. "The Democrats, many of whom pride themselves on a James Dean, Rebel Without a Cause image, will just fall in line and do whatever the majority leader says."
Watch the clip below via Fox News Channel:
[Photo via screen grab ]
— —
> >Follow Noah Rothman (@NoahCRothman) on Twitter
Have a tip we should know? tips@mediaite.com