It's on Like Donkey Kong! Bernie Sanders Confirms He Will Debate Thursday Night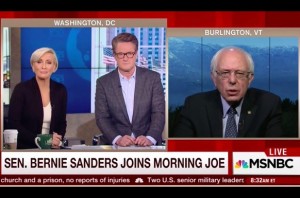 After a period of extended coyness from Iowa Democratic Caucus Virtual Dead-Heater and New Hampshire primary frontrunner Sen. Bernie Sanders (I-VT), it now appears to be official: the upstart septuagenarian will appear at Thursday night's mostly-sanctioned Democratic debate on MSNBC. On Wednesday morning's Morning Joe, Sanders confirmed to co-host Mika Brzezinski that he will, in fact, show up for the debate despite reports of a snag over future debates, and also took the opportunity to needle the Hillary Clinton campaign over their new-found enthusiasm for Oral Kombat:
Brzezinski: You mentioned the word debate. People need to be debating the issues. Are you going to be participating in a debate with Hillary Clinton tomorrow night?

Sanders: The answer is yes, and you know that I have always wanted more debates and secretary Clinton, in the beginning, was not so interested in more debates. Now suddenly they're very interested in more debates. What I wanted to see is on top of New Hampshire, three more debates. We were talking about California, Michigan, and I wanted New York City. Secretary Clinton represented New York seven years in the senate. I thought it would be a good idea. For some reason she's not interested in debating in New York.

Brzezinski: Why are they suddenly interested in more debates? You said that with a little sly smile.

Sanders: Well, golly gee, I don't know. It may have — it may have something to do with the fact that the — that the nature of this campaign has changed a little bit, and now they're getting a little bit nervous. But it was interesting, as you'll recall, way back when the DNC said six debates, we had no input into that. Secretary Clinton said, hey, that's great, that's fine. I love debates.
Since Brzezinski works for MSNBC and the debate is on MSNBC, I think this qualifies as a legally binding verbal contract.
Have a tip we should know? tips@mediaite.com