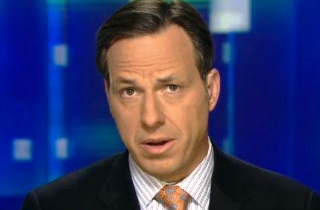 On the heels of Fox News' Wednesday announcement that its first GOP forum would take place in August, CNN says State of the Union and The Lead host Jake Tapper will moderate its Republican debate on September 16.
The event, which will air in prime time, will take place at the Ronald Reagan Presidential Foundation and Library in Simi Valley, Calif.
Unlike the Fox News debate, however, CNN's Tapper-lead debate will not limit the number of participants to the polled top 10. At least, not in the same way that its popular counterpart has said it will.
The [debate] will actually be split into two parts: One with the candidates that national polls rank as the top 10 GOP contenders, and one with the candidates who didn't make that cut.
So, in a sense, CNN is limiting the playing field to the top 10 GOP candidates via national poll results. But they're also going to include some time for "the candidates who didn't make that cut."
On the one hand, this is the network's way of avoiding most of the backlash Fox News received when it announced its play for inviting only 10 GOP candidates to its debate — despite the current GOP field consisting of practically every registered Republican in the country. Yet doesn't it sound a little worse?
"Sure, we're going to give you airtime, but you can't hang out with the 'cool' kids, and we're going to make sure everyone watching at home knows that you're a nerd."
[h/t CNN]
[Image via screengrab]
— —
>> Follow Andrew Husband (@AndrewHusband) on Twitter
Have a tip we should know? tips@mediaite.com