Jacqueline Kennedy Tapes: JFK 'Didn't Like Idea' That LBJ Might Be President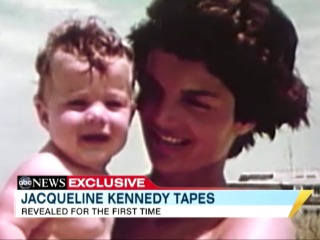 A series of recently-released tapes show former First Lady Jacqueline Kennedy revealing that her husband, John F. Kennedy, was extremely worried over the possibility of then-Vice President Lyndon B. Johnson someday becoming president.
In the series of oral interviews, recorded in 1964 by historian Arthur M. Schlesinger Jr., the former Mrs. Kennedy shares that, in the months before his assassination, her husband met with his brother, Robert, to discuss a means of circumventing a possible Johnson presidency after his second term:
Bobby told me this later and I know Jack said it to me sometimes. He said, "Oh, God, can you ever imagine what would happen to the country if Lyndon was president?' He didn't like that idea that Lyndon would go on and be president because he was worried for the country. Bobby told me that he'd had some discussions with him. I forget exactly how they were planning or who they had in mind. It wasn't Bobby, but somebody. Do something to name someone else in '68.
For reasons one can probably guess, the frank interviews were kept private by the Kennedy family until now. Jacqueline's daughter, Caroline Kennedy, has explained that the interviews reflect a complicated time, but that her mother had always been very fond of Johnson and his wife.
Tomorrow (Tuesday Sept. 13th), Diane Sawyer will host a prime-time, two-hour ABC News special about the tapes, the transcripts of which will be released in Jacqueline Kennedy: Historic Conversations on Life with John F. Kennedy later this month. Sawyer gives us a sneak peek of tomorrow's special, sharing, among other things, that we've been pronouncing the former First Lady's name incorrectly this whole time.
Take a look at the segment, via ABC:
Have a tip we should know? tips@mediaite.com