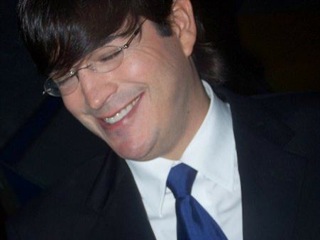 "The only thing I was upset about was that I wasn't the one frolicking on the beach with him in a bikini! What a sexy man!" It was the sort of political commentary even the sauciest of female American pundits would never dare speak of the most coveted Hollywood star, but Jaime Bayly, Peru's most controversial political talk show host, made no bones about his lust for Father Alberto Cutié, known in America by the nickname "Father Oprah"—a talk show host himself, who would leave the Catholic faith for the Episcopalian Church shortly thereafter to continue his monogamous, consensual, and wildly scandalous relationship with an adult woman. Bayly was possibly as livid as anyone else in the Latin American media world about the photos of a shirtless Father Cutié tanning in Miami with a woman roughly his age, but rather than a bout of moral outrage, he was teeming with the jealousy typically reserved for teenage girls.
RELATED: Peruvians Upset At Being Called Goat-Tripping Murderers By Modern Family
The anecdote is, in many ways, emblematic of the iconoclastic approach to political commentary that has defined Bayly's career—from his teen years as a hard-nosed (and powder-nosed; it was the '80s) journalist for Lima's biggest newspapers to his frank, glass-ceiling-breaking novels about love, lust and confusion in gay Latin America, to his staunchly right-wing politics that have made him the target of death threats from Peruvian supporters of leftist President Ollanta Humala as well as those with ties to Venezuelan dictator Hugo Chavez.
While Latin America has analogs to Anderson Cooper (Univisión's Jorge Ramos) and Piers Morgan (CNN en Español's Ismael Cala), and an argument can be made that Maria Antonieta Collins is something of a Christiane Amanpour, American media has no one with as convoluted and colorful a set of traits as Bayly. He is a bit like Bill Maher—if Bill Maher had Sean Hannity's politics, Dan Savage's vocabulary, Nicholas Sparks' writing resume, and once ran for president.
A tall man with a bizarre combination of a mushroom cut and a mullet who chooses to wear only one cerulean tie on his program always, Bayly is crude and hilariously eloquent, thoroughly off-putting if he wasn't so charming. His accent—the high-pitched, breathless, almost Argentine chirping typical of Peruvian high society—punctuates often bold statements, both the political (he once described Hugo Chavez's oratory skills as "a sort of oil well that, once open, shoots and oozes out a thick, black tar") and non-political. In the latter category, take an anecdote from the definitive English language profile of Bayly, in the Miami New Times: Bayly upset the aforementioned Collins by explaining compassionate father-to-be-hood in these terms:
"For the past five months, I haven't been able to have sex with her. But you have to show solidarity with your girlfriend while she's pregnant. She can't drink, so now I don't drink either. She can't smoke cigarettes so I've given them up too. She doesn't feel like having sex, so I don't have sex with her. I have sex with other women."
His is perhaps most accurately described as a breed of Latin American libertarian—the kind that doesn't mind it when the United States stretches it arms out and smacks a couple of dictators in the process, the kind that played the Rev. Jeremiah Wright card in 2008 or blast Michelle Obama for her "I'm finally proud to be an American" comment. Then again, he ended up endorsing President Obama in the end, citing Sarah Palin's "severely limited intelligence" as just about the only reason (stupidity might be the one sin firmly inducted into the Jaime Bayly moral code). In Peruvian politics, there is no leader he has yet to insult—even President Alberto Fujimori, despite his open support for his daughter, Keiko, during her presidential run (and after he concluded his own candidacy). One of his more entertaining short stories is written as the script of a Fujimori-themed episode of Laura en América, the Peruvian Jerry Springer.
But to define him exclusively as a libertarian commentator, or a conservative one, or a novelist or a presidential candidate allows his most significant accomplishment as a public intellectual to fall through the cracks: his campaign to normalize the acceptance of LGBT people in Latin America by simply being himself.
"My mother will be annoyed with me for saying this, but I'm sorry," begins his most famous essay on the subject, "but I defend the gays." He explains in quite simple terms, perhaps keeping his mother in mind, why he finds that "the love between two people of the same sex is as legitimate and respectable as heterosexual love," including—possibly most importantly in as staunchly a Catholic country as Peru, "being gay does not offend God." In the most poignant part of the essay, he concludes, "God is love. If two people love each other and are happy, they honor God and life itself."
It is not a contradiction to Peruvians that their most militant far-right commentator is a white, upper-class bisexual who openly shows off his could-be-his-daughter-aged wife just to scorn his ex-boyfriend on a program presumably about politics. Even to his large audience in Miami, where his fight against Latin American socialism has garnered him nearly honorary membership in the Cuban-American lobby, his penchant for impotence jokes, even in reference to a boyfriend, is met with giggled approval. In many ways, his unique non-Americanness is a reminder of something long forgotten in American politics—that standing up for LGBT rights was always the province of conservatives (or, as they're known outside of America, liberals), of the right wing. It was communist revolutionaries like Che Guevara who called for eradicating LGBT folk, who labeled anything from rock music to long hair to homosexuality counterrevolutionary.
Anyone who doubts the vibrancy of the Latin American right need look no further than Bayly to understand it is nothing short of alive and kicking, even if Peruvians rejected his novelty presidential bid, with its promises to appoint only gay ambassadors and end all his speeches with "I'm your man" and "Stay cool," as he writes in his collection of short stories. Unfortunately, Bayly has expressed no plans to jump ship to English-language media, despite speaking the language and having lived here for decades. It is a shame, because there is a Jaime Bayly-shaped void in the American political media, and in a country of ever-growing Latin American population, a country that has accepted at once Sen. Marco Rubio and Sofia Vergara as its own, a flamboyant conservative oversharer equal parts Charles Krauthammer and Oscar Wilde would fit into this election cycle just fine.
There are many ways to experience Bayly, though, unfortunately, most need translation. His program airs weeknights on the Miami-based MegaTV, which uploads the videos daily. His latest novel, You Will Die Tomorrow, was released this year in American bookstores, and features the heartwarming plot of a man told he has mere months to live, and opting to use the time to kill his least favorite people (think 50/50 but with Joseph Gordon-Levitt going on a murderous rampage). Many of his books— particularly his first and most famous, Don't Tell Anyone— are available in translation, and Don't Tell Anyone was made into a film in the early 1990s.
[Photo via]
Have a tip we should know? tips@mediaite.com