Jake Tapper Digs Into Gruesome Details Of Kermit Gosnell Case With Philadelphia Inquirer Reporter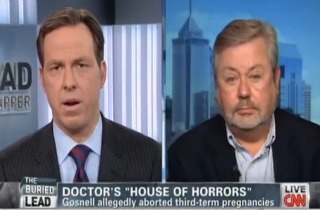 On Friday, CNN host Jake Tapper reported on the details of the chilling case of late-term abortion provider Kermit Gosnell. The abortion doctor is presently on trial for the murder and mutilation of seven infants and one adult woman. Philadelphia Inquirer reporter Joseph Slobodzian admitted to Tapper that covering the case is "pretty grim."

RELATED: Not All Of Cable News Ignored Kermit Gosnell: CNN's Jake Tapper First Covered 'House Of Horrors' On March 21
Tapper began the segment by warning his viewers that the details of the Gosnell case were graphic. He then read portions of the grand jury testimony in the case which alleged that Gosnell "regularly and illegally delivered live babies" and then "murdered these newborns."
Slobodzian said that witnesses have testified in court that they witnessed living, moving infants who were dispatched by Gosnell.
"Kermit Gosnell comes from a very well-established family in West Philadelphia," Slobodzian said. He detailed the extensive education that Gosnell received prior to starting his abortion practice and said that the accused child murderer had "a pretty good reputation in the community."
Slobodzian added that Gosnell was a communitarian as well, providing free medical care to people who could not receive it when he operated a drug rehabilitation center before becoming an abortion provider.
Tapper played a clip of an anonymous woman who revealed details of the clinic in a documentary. The woman said that a nurse who worked for Gosnell informed her that it was alright to have multiple abortions over a lifetime. The woman admitted to having eight abortions at Gosnell's clinic.
"I certainly don't hope I cover a trial like this again," Slobodzian told Tapper.
Watch the interview below via CNN:
> >Follow Noah Rothman (@NoahCRothman) on Twitter
Have a tip we should know? tips@mediaite.com