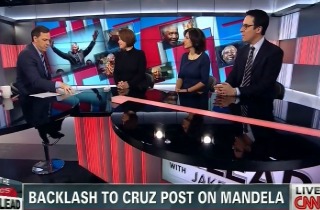 As loyal readers of this or any political blog will know, virtually any controversial topic inevitably results in the comments section ballooning with insensitive and intentionally provocative comments submitted by often anonymous critics. The death of former South African President Nelson Mandela has been no exception. On Friday, the guests on Jake Tapper's The Lead took on the phenomenon of internet "trolls" making insensitive comments.

"It's the bathroom wall of the internet, the hovel of haters and trolls; I'm talking, of course, about the comments section of social media sites," Tapper began.
He cited a comment posted on Facebook by Sen. Ted Cruz (R-TX) who praised Mandela and lamented his passing. That comment was followed by a number of irate responses from the senator's followers which castigated him for praising a "communist" and a "murderer."
Tapper said they reached out to Cruz's office for comment. He reported that they observed that even the White House's Facebook page is often populated by "hateful" comments.
"I think, frankly, we shouldn't be paying attention to this," Republican strategist Ana Navarro said. "Let's hold people on Facebook and Twitter accountable for what they say, not for what followers say."
RELATED: Limbaugh: Media Trying to Make Mandela's Death All About Obama
She added that it's possible that some of the hateful commenters may have been liberals posing as conservatives in order to cast the ideology in a negative light.
"If they were liberals, I think they would feel really badly about attacking Nelson Mandela for whatever political purpose," Center for American Progress President Neera Tanden asserted. She said that the most important issue is that Cruz praises Mandela today whereas the conservative movement of decades past was not friendly to the former South African president prior to his election to high office.
"I wonder if one of the problems is that we do these funerals and obituaries, we canonize these people instead of acknowledging there were shameful moments in the ANC's past, and Mandela said nice things about Fidel Castro and freedom in Cuba that are demonstrably false, and that maybe because we bend over so backwards to show respect that that creates an opening," Tapper said. He later admitted that he was only playing devil's advocate and did not believe his own premise.
"I think we all agree that, if there's anyone in modern or world history that deserves sort of to be put on a pedestal, it's Nelson Mandela," The New Yorker writer Ryan Lizza.
Watch the clip below via CNN:
[Photo via screen grab ]
— —
> >Follow Noah Rothman (@NoahCRothman) on Twitter
Have a tip we should know? tips@mediaite.com