Jake Tapper Confronts Jay Carney: White House Wants 'Aggressive Journalism Abroad,' But Not In The U.S.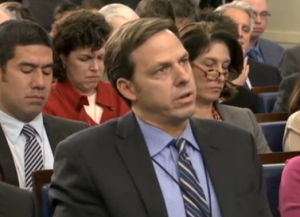 At Wednesday's White House press briefing, White House Press Secretary Jay Carney praised the journalists (Marie Colvin, Rémi Ochlik and Anthony Shadid) recently killed covering the violent unrest in Syria. ABC News' Jake Tapper then asked Carney about the discrepancy between how the Obama administration treats journalism internationally versus domestically.
The White House "keeps praising these journalists who've been killed," Tapper said, but that is inconsistent with the administration's actions within the U.S. He asked, "How does that square with the fact that this administration has been so aggressively trying to stop aggressive journalism in the United States by using the Espionage Act to take whistleblowers to court?"
Tapper went on to detail how "this is the sixth time you're suing a CIA officer for allegedly providing information in 2009 about CIA torture. Certainly that's something that's in the public interest of the United States." Previously, the act had only been used three times in history.
Plainly, Tapper stated, "There just seems to be disconnect here. You want aggressive journalism abroad; you just don't want it in the United States."
Carney referred Tapper to the Department of Justice and went on to underline the bravery of reporters abroad "in extremely dangerous situations in order to bring a story of oppression and brutality to the world." In terms of other cases, Carney said he could not comment.
Pressing the issue, Tapper asked, "So the truth should come out abroad; it shouldn't come out here?"
Carney stressed, "well, that's not at all what I'm saying, Jake, and you know it's not" — and said he would not make a judgment on a broad array of cases.
It's hard to expect a significantly different response from a press secretary, but kudos to Tapper for bringing up a valid issue.
Take a look, via ABC News:

Have a tip we should know? tips@mediaite.com