Jake Tapper Grills Carney On Libya: 'Didn't President Obama Shoot First And Aim Later?'
Jake Tapper Grills Carney On Libya: Didn't Obama 'Shoot First And Aim Later?'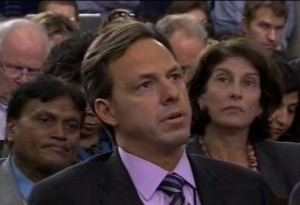 Much of today's White House press briefing featured Jay Carney being grilled by a number of reporters on the administration's muddled response to the attacks on the U.S. consulate in Benghazi last month that led to the death of four Americans, including a U.S. ambassador. ABC's Jake Tapper asked Carney how President Obama could have fairly criticized Mitt Romney for jumping the gun before seeing the evidence when, as he said, the Obama administration was engaging in the same tactic.
RELATED: Obama Fires Back At Romney, Says He Has A 'Tendency To Shoot First And Aim Later'
Tapper brought up concerns that the State Department did not agree to increased security on the consulate prior to the attack. Carney made it clear that the deaths of the four Americans in Benghazi was "not acceptable" to the administration, adding that the security situation is currently the subject of investigation. Tapper asked again about the initial reaction of the State Department, to which Carney re-emphasized that he would not preempt any official investigations that have not been completed.
Tapper brought up the Obama's comments last month in which the president criticized Romney's response to the attacks in Egypt and Libya by saying that Romney has "a tendency to shoot first and aim later." Tapper used Obama's comments to turn the tables on his administration's mixed messages on the Benghazi attacks.
"Given the fact that so much was made out of the video that apparently had absolutely nothing to do with the attack on Benghazi, that there wasn't even a protest outside the Benghazi post, didn't President Obama shoot first and aim later?"
Carney disputed some of Tapper's facts and made it clear that Obama's initial comments were in response to what the White House thought was unnecessary politicization of an ongoing crisis, especially when they did not have the full facts yet. Tapper said he recalled both Obama and Hillary Clinton, among other administration officials, who kept talking about the controversial film Innocence of Muslims before it was clear whether or not the movie had to do specifically with the Libyan attack.
Watch the video below, courtesy of C-SPAN:
h/t HotAir
Have a tip we should know? tips@mediaite.com
Josh Feldman - Senior Editor