Jake Tapper Grills Rep. Darrell Issa On Partisanship Of Fast & Furious Investigation
Jake Tapper Grills Rep. Issa On Partisanship Of Fast & Furious Investigation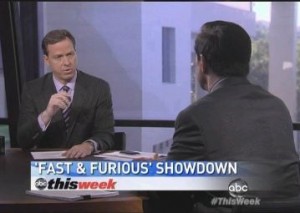 Congressman Darrell Issa, chairman of the House Oversight Committee, made the rounds on the Sunday talk shows today defending the investigation he has spearheaded into the Fast & Furious operation. On ABC's This Week, Jake Tapper confronted Issa about the partisan appearance of the hearings, asking him why he hasn't brought Bush administration officials to testify and why, under that administration, he never voiced any problems with executive privilege.
RELATED: Michael Steele And Karen Finney Clash Over Fast And Furious 'Witch Hunt' On MSNBC
Tapper told Issa that to many people, the investigation appears overtly partisan. He reminded Issa of a similar gun-running operation carried out under the Bush administration, and asked the congressman why he hasn't called Justice Department officials from that administration, like former Attorney General Michael Mukasey to testify. Issa claimed that the committee's subpoenas "cover that information," but made it clear that the Obama administration just can't use the excuse of "oh, well, they did it too" to avoid scrutiny.
"When we get lied to, when the American people get lied to, there can't be oversight if there's lying, and there cannot, the Supreme Court has held pretty clearly, there cannot be executive privilege over criminal coverup or coverup of a crime. Lying to Congress is a crime."
Issa explained that a letter being sent directly to President Obama tomorrow will explain why claiming executive privilege in this case is too broad and "wrong." He admitted that contempt could be dismissed immediately if the withheld documents end up lining up exactly with what Eric Holder said, but he would need to see those documents first.
RELATED: Jon Stewart Trashes Obama's Executive Privilege Assertion On Fast And Furious
Tapper focused on Issa's criticism of Obama claiming executive privilege and turned the tables on the congressman, showing video of him in 2008 leaving the House chamber as the Democrats were trying to hold members of the Bush administration in contempt. Issa clarified that he "had some issues" with that administration, particularly Alberto Gonzalez, but he stated that he has no problem with executive privilege if it is done in a judicious manner. Issa insisted that he is making it a priority in this case to investigate potential criminal conduct.
Watch the video below, courtesy of ABC:
Have a tip we should know? tips@mediaite.com
Josh Feldman - Senior Editor