Jake Tapper Hastily Defends Wearing a Trump Tie Last Year: I Was Making a Point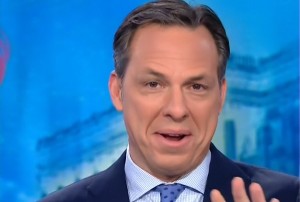 While journalists like George Stephanopoulos have previously had to defend their ties with political candidates like Hillary Clinton, CNN's Jake Tapper felt the need to defend a candidate's literal ties around his own neck. On Sunday morning's State of the Union, Sen. Sherrod Brown (D-OH) mentioned, while slamming Trump for outsourcing jobs, that Tapper had worn a Donald Trump necktie while interviewing the real estate mogul "a few months ago," prompting Tapper to issue a hasty and vociferous clarification:
Tapper: Just for the record, I wore that Trump tie to make that point that the…

Brown: No, I know you did.

Tapper: I know, just for the viewer.
As it turns out, it wasn't a few months ago, it was nearly a year ago, and just a matter of days after Trump had announced his candidacy. Tapper did indeed wear a Trump tie while interviewing the candidate, and used the neckwear as a way of tightening the noose around Trump's hypocrisy on trade:
TAPPER: Let me ask you about China, because, as you may or may not know, this is a Trump tie.

TRUMP: Yes.

TAPPER: I bought it for this interview.

TRUMP: Oh, and not only that. I mean, I buy a lot of stuff, because…

TAPPER: But, as you know, they're made in China.

TRUMP: Very beautiful tie, though.

TAPPER: It's a lovely tie.

TRUMP: Yes.

TAPPER: It's made in China.

TRUMP: Correct.

TAPPER: Is it hypocritical at all for you to talk about this…

TRUMP: No, not at all, not at all.

TAPPER: … while you're manufacturing your clothes in…

TRUMP: No. And I buy — I'm building the old post office. And I just made

an order from China, because they have cut their currency to such, I have an — I'm a private person. I may not be a private person for long. Who knows. We will see what happens.

TAPPER: Right.

TRUMP: I talk about my ties in speeches.

TAPPER: Right.

TRUMP: You know, I'm open. I say, my ties, many times, are made in China, not all of them, by the way, but a lot of them are made in China, because they have manipulated their currency to such a point that it's impossible for our companies to compete.

TAPPER: When it comes to outsourcing jobs, which is what this tie would be a representative issue of, one of the issues is that the people in China, the laborers, are paid a lot less and the standards are worse when it comes to the environment and health care and worker safety.

TRUMP: Many problems. I agree with that.

TAPPER: Isn't that what — but what do you say when somebody says, well, why don't you — why don't you be a leader and make these in Philadelphia? I would be willing to pay more for this tie.
It's a point that Democrats hope won't be lost on voters, and one which is underscored by the fact that wearing a Trump tie carries a stigma that requires such a disclaimer nearly a year later.
Have a tip we should know? [email protected]