Jake Tapper Lays Into Spitzer Over Hypocrisy Of Never Being Charged With Breaking Law He Signed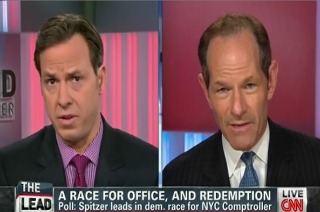 Former New York governor, television host, and current candidate for comptroller of New York City, Eliot Spitzer, joined CNN host Jake Tapper for an in-depth interview on Thursday. Tapper grilled Spitzer over why he believes that his crime, soliciting the services of a prostitute, was never prosecuted whereas others who abetted his crime were charged and convicted. Spitzer said that, even though he violated it, he was proud to sign an anti-human trafficking law while he served as governor.

Tapper observed that, when Spitzer served as attorney general of New York, he called prostitution "modern day slavery." He noted that some have taken offense to the fact that Spitzer never faced charges for his violation of the law.
One of his opponents in the race for NYC comptroller, the former "Manhattan Madam" Kristin Davis, who provided Spitzer with prostitutes, recently slammed Spitzer's hypocrisy in a quote to the New York Post.
RELATED: John Oliver Scorches Spitzer-Weiner New York Redemption Tour: 'Surprising Everyone With Their Solid Polling'
I spent four months in Rikers Island from which I returned penniless, homeless, and forced to take sex offender classes for five months with pedophiles and perverts, while [Spitzer] returned to his wife in his 5th Ave. high rise without ever being fingerprinted, mug shot, remanded, or charged with a crime under the every law he signed.
"What do you say to her?" Tapper asked.
"Well, the decision was made based upon the standards set by the Department of Justice and made by the U.S. attorney's office," Spitzer replied. "They looked at the office and dealt with me the way they dealt with everyone else in my situation."
"You really think that?" Tapper shot back. "I think a lot of people might think, look, you're somebody with money, you're somebody with power, and this is a perfect example of how people like you don't end up doing the time the way the average person does."
Spitzer said he refused to "quibble" over the decision not to charge Spitzer with a crime. "That was their judgment, not mine," he said.
He added that he is proud of his offices decision to sign an anti-human trafficking law while in office.
"Even though you violated it?" Tapper asked.
"That's correct," Spitzer replied. "There's no question that law deserves to be there."
Watch the clip below via CNN:

> >Follow Noah Rothman (@NoahCRothman) on Twitter
Have a tip we should know? [email protected]