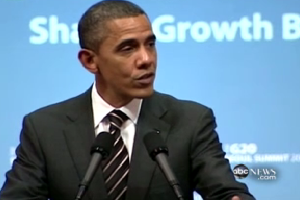 President Obama's trip to Asia seemed to be haunted by criticism the whole way through. But while much of it seemed peripheral to the nature of the actual mission, the objectives thereof seemed also to have remained incomplete. In covering his final speech abroad, ABC News' Jake Tapper counted down three major economic faults that remain unsolved in the wake of the President's return.
The President's final speech in Asia was laden with subdued language about how America can't always "hit home runs" and run into disputes abroad because "we're initiating ideas." "Instead of hitting home runs," he told the audience, "sometimes we're going to hit singles. But they're very important singles!"
Tapper identifies alongside this language three "strikes" in Obama's record, for which he argues the President struck out. For one, South Korea is not further opening its markets to the United States, a stated objective of the trip, nor is China adapting their currency policies to the greater benefit of the global community (currently, the Chinese employ a method of suppressing the value of their currency that allowed for manufacture in their country to be done at a much cheaper price– a policy that is killing the American economy). The president also failed to rally the other G20 countries behind the United States to help pressure China. Meanwhile, the successes of the trip in the far east seem few and far between, aside from the President's diplomatic work in India and Indonesia.
ABC News' report of the President's trip abroad below:



[h/t Breitbart.tv]
Have a tip we should know? tips@mediaite.com